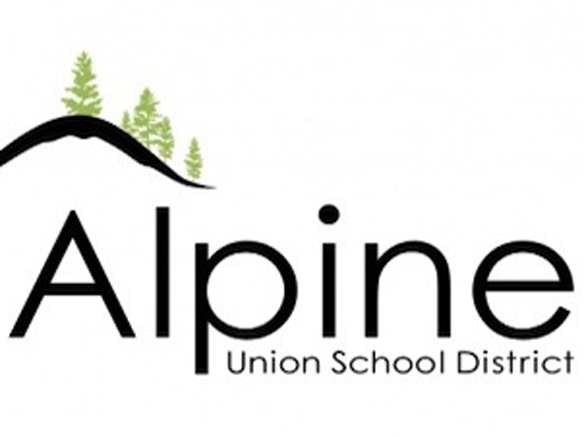 A regular school board meeting was held on Thursday the 30th, by the Alpine Union School District Board of Trustees. This board meeting would be the last for dedicated AUSD employee Cassandra Herrmann, who will be retiring after 26 ½ years of work as the Secretary of the School Board. Superintendent Tom Pellegrino stated, "She took whatever time necessary to get the job completed the right way and always with a great attitude. She loves the Alpine Union School District because it serves an amazing community." He continued, "There will be a hole the size of Texas when you retire Cassandra. On behalf of the board of trustees, the district, and all of our 230 full and part time employees and 2,000 students and the thousands of students and parents you've served in your career, we say thank you, and enjoy your retirement."
Given the chance to say a few words, Herrmann said, "I am going to miss everyone here so much. This is truly a great place to work." Gifts and cake were enjoyed in her honor.
Superintendent Pellegrino gave his regular report which included an update on student Standardized Testing and Reporting (STAR) test results. Regarding the most recent results, Pellegrino explained, "Our goal of course is steady growth year by year, and we are flat this year. There are increases and decreases with grade levels at each site. Overall we're equaling the proficiency levels of the previous year."
Also included in this report was information on class sizes in the coming school year. Considering the 4.0 FTE (Full Time Equivalent) layoff reduction made by the School Board last May which resulted in 4 less teachers in the district, and a drop in enrollment, class sizes will go up this year. Pellegrino noted, "The true increases will not be known until we actually start Day 1. We have estimates of where numbers are, and they're very close to the estimates that we anticipated the class sizes would be."
Time is allotted at each board meeting for members of the public to address the board on issues they would like to bring to attention. AUSD part time teacher Eddi Fordem addressed the board regarding the denial of her insurance benefits, due to her position as a part time, shared contract teacher. Fordem stated, "Our contract clearly states that after ten years of full time credit, a teacher will receive benefits to age 65." She continued, "I certainly understand the many fiscal constraints the district has been living under, however, for Mr. Pellegrino to cancel my earned insurance is not right and I request this decision be overturned." Another teacher, in support of Eddi Fordem's appeal, stated, "I've dedicated 31 years to the teaching profession, and now because of 17 years of job share years, I may lose my retirement too. I had no idea that was even in the works. I'm the sole benefit holder in my family. Had I been made aware of this before, some life decisions might have been different." Soon after followed 6 different people, teachers and civilians alike, who each appealed to the board in an effort to regain Fordem's benefits. Fordem's own husband spoke to the board, and said of his wife, "At times I'd wake up and she'd be gone at 4:30, in her classroom in the dark, until 6 and 7 at night. She has made the definition of a difference in hundreds and hundreds of children."
Superintendent Pellgrino responded to the outpouring of support for Fordem by explaining that the AUSD teachers contracts grant benefits only to full-time teachers who have completed 10 full years of teaching. Pellegrino answered, "It's really what's in the contract and we need to follow it. I think the world of Eddi Fordem, I think that many of our teachers that are on part time assignments give above and beyond, and it's not about what I would like to do, it's about what I am able legally to do, and I can't give something that's not in the contract."
The board members discussed the possibility of arbitration on the issue. After the adoption of the consent calendar and other routine matters on the meeting agenda, the meeting was adjourned.