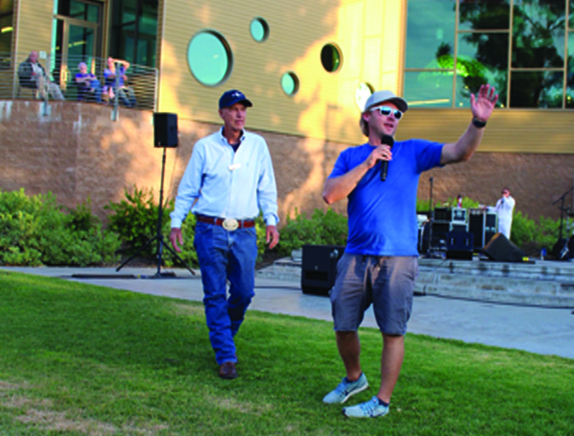 With longtime Director of Operations Cindi Robertson retiring from the Alpine Community Center earlier this year, board president Louise Phipps was concerned filling her shoes would not be an easy task.
Robertson had grown the position to such an extent that a replacement who could do a comparable job might not be found, Phipps reasoned.
"She's the only full-time person here and she does it all; she interacts well with the Chamber of Commerce, works with local groups that want to rent the facility, she feeds the homeless that show up here— the papers all say that we have no homeless people but she keeps track of them all; Baron's gives us so much and no questions asked, Cindy makes sure they have food," Phipps said.
Enter Shane Greer, the new Director of Operations at the community center.
Greer, 35, grew up attending local schools—from Dehesa Elementary to Joan MacQueen Middle school, then followed up his high school years at Granite Hills High school by earning a degree in nutrition at San Diego State University.
He has volunteered with Alpine schools, served on the All-American Little League Board as well as the Alpine AYSO Board, and spent time working on the local Viejas reservation.
"We found the person who is impossible to find. He's lived in Alpine his whole life, knows the community, he was even married here. I just think we hit the jackpot," Phipps said.
Greer said that his biggest challenge coming in as Director of Operations is to build up membership at the center.
According to Phipps, most people assume that the community center receives government funding but in reality, the site is privately owned and self-sustaining through membership and rentals.
In 2008, the board of directors sold part of community center's attached land to the county for the Alpine library while simultaneously providing economic respite for the center.
"Membership is about 150, that's all. It doesn't even dent the financial picture. Working here is a real eye-opener. The center was originally set up for kids, and I'd love to see us get back to doing more events with young kids but we spend so much time in survival mode," Phipps said.
"We have to work on building up membership by connecting with the community. The first thing I'd like to work on is to find out what the people of Alpine want to see here and make the right changes so they become members and really utilize the community center. Alpine is heaven for cyclists so we're going to start the Alpine Cycle Club and do rides once a month, we're also looking at starting the Alpine Car Club. I've already brought in basketballs, footballs, soccer balls for the kids to use in back… some people don't realize that the park belongs to the community center so we're looking to add open hours on Saturday where families can come enjoy the park… We want to be the place where people of all ages come together," Greer said.