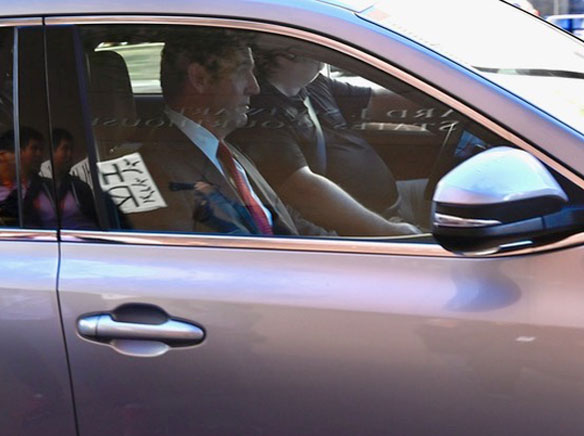 A judge on Monday set a Sept. 10, 2019 trial date for Congress­man Duncan Hunter and his wife who are accused of unlaw­fully using campaign funds for personal expenses.
Both Duncan D. Hunter, 41, and his estranged wife, Mar­garet Hunter, 43, waived their right to have a speedy trial be­fore U.S. District Court Judge Thomas Whelan.
Defense attorneys Greg Vega and Logan Smith asked for a lengthy delay because they have not yet gone through every document which refers to the 43 counts of wire fraud and 13 counts of falsifying records for campaign finances from 2009 to 2016.
Both Duncan Hunter(R-Al­pine) and his wife have pleaded not guilty to all 60 counts which also include conspiracy and three counts of prohibited use of campaign funds.
Assistant U.S. Attorney Em­ily Allen said she did not object to a long trial delay, but wanted a trial date set Monday. She told Whelan the trial will last three weeks.
Hunter won re-election Nov. 6 as the 50th District represen­tative, but he had resigned his membership on all House com­mittees after the indictments were unsealed Aug. 21.
He remains free on $15,000 bond and his wife is free on $10,000 bond.
After stories surfaced about questionable expenses with campaign funds, Duncan Hunt­er repaid his campaign approxi­mately $60,000 of his own funds several years ago.
However, the 47-page indict­ment says Hunter and his wife charged $250,000 in expenses that included vacations, dental work, and miscellaneous items that do not involve campaign expenses.
For example, his wife is ac­cused of using campaign funds to buy $704 in theater tickets to "How the Grinch Stole Christ­mas" in 2010 for seven adults and five children.
Hunter and his wife came separately to the federal court­house and did not sit together or look at each other. Duncan Hunter has previously said his wife was employed as his campaign manager and she is responsible for the wide scale spending.
During the hearing, Whelan realized he did not have a 2019 calendar in front of him, so he went to his chambers to look for one before setting dates.
Whelan told attorneys to file all motions by June 24, but al­lowed attorneys until July 29 to be able to respond to written mo­tions by the other side.
There were only a few protest­ers outside the federal court­house on Monday, but previous­ly there were 10-20 people who shouted at Hunter and his wife when they left the building at previous appearances.
To save money on housing, Duncan Hunter has moved in with his father, Duncan L. Hunter, who represented the East County district from 1981-2008. His son won the 2008 primary after his father briefly ran for president in 2008 before retir­ing.
Both father and son have urged people to wait for the ver­dicts at the trial before passing judgment.
The indictment specifies a number of businesses in Santee, El Cajon, La Mesa, Alpine, and elsewhere where the Hunters shopped while allegedly using campaign funds. The falsifying records charges list reports filed to the Federal Election Commission.