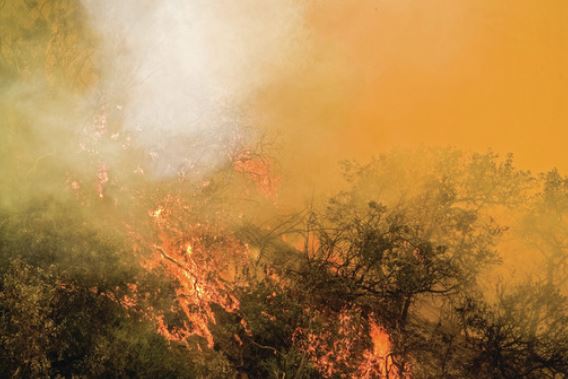 Alpine Fire Protection District will not be holding its annual Open House this year, Alpine Fire Marshal Jason McBroom said. "We have followed suit with our neighboring agencies and are siding with caution due to COVID-19 concerns and the potential for contact tracing. Instead, we will be putting together a virtual open house that residents may view safely from the comfort of their own homes," McBroom said.
The goal is still to reach out to the local community with public education, McBroom said, and the virtual open house will consist of single slides from local businesses and agencies on what services or protection they offer, all wound together into one slideshow of information.
Slides will include information from United States Forest Service, Viejas Fire, San Diego Sheriff, Greater Alpine Fire Safe Council, Sunrise Powerlink Fire Mitigation Group, Kiwanis of Alpine, California Highway Patrol, State Farm Insurance, San Miguel Fire, San Diego Gas and Electric, Albertson's Grocery, Baron's Market, Reach Air, Mercy Paramedics and Alpine Fire Protection District.
There are a couple updates regarding fire prevention that residents should be aware of, McBroom said, as well as general reminders about fire zones around individual homes.
"A new law went into effect in January for real estate disclosures. Homeowners who live in the wildland- urban interface area must disclose the current conditions of their home and its resiliency against wildfire if it was built before 2010," McBroom said.
According to the United States Fire Administration, the WUI is the zone of transition between unoccupied land and human development. It is the line, area or zone where structures and other human development meet or intermingle with undeveloped wildland or vegetative fuels.
Furthermore, he said, AB38 requires sellers to notify any buyer that a home does or does not meet WUI wildfire structural conditions, which includes having items like dual pane windows with single pane tempered glass, a non-combustible roof, ember resistant vents, non-combustible exterior wall surfaces, one-hour fire-rated exterior doors, bird stops, and metal rain gutters.
All of Alpine is classified as a 'Very High Fire Hazard Severity Zone,' McBroom said, and Alpine Fire Protection District has its own local vegetation management ordinance in place. To help homeowners meet that ordinance, the local fire agency will perform inspections on a seller's property and provide a compliance letter to the seller which they can give to the buyer, or a list of items to mitigate for compliance. "By providing homeowners with a site inspection of the existing vegetation currently planted on site and educating them on what to keep and what to remove, we are able to promote a safer working environment for first responders through structure protection to the homes themselves," McBroom said.
Fire officials also continue to educate homeowners on the first five feet surrounding the exterior perimeter of the home, and the importance of removing all combustible materials, McBroom said. That includes vegetation, mulch, bark, compost, and decorative items. Ideally, that extends the 'noncombustible envelope' from the non-combustible roof to a noncombustible wall surface and outward for the first five linear feet around the house.
"At the edge of that zone, the 'Intermediate Zone' or Zone Two runs for the next 50 feet outward or to the property line, depending on which is closer. All plants should be less than six inches high closest to the home and no more than 18 inches high at the edge of the zone," McBroom said.
The Extended Zone then runs from 50 to 100 feet out from the home, and often has trees that need tending.
"Limb up all mature trees to a minimum of six feet vertically and remove any plant growth from under the drip line of the trees," McBroom said, and separate tree canopies such as California Black Pepper trees to maintain ten feet of spacing between the crowns of the trees.
Reducing the flame height of vegetation and flame length as the fire moves during a wind condition like a Santa Ana wind event is important, the Fire Marshal said, because flame length will spread fire as direct flame contact moves the fire from one plant to the next.
Remember to Remove, Reduce and Replace, McBroom said.
"Remove all dead vegetation and non-native species. Reduce potential for spread of fire. Replace with low ground cover vegetation," McBroom said.
The virtual open house, assembled as one video presentation, will be hosted on the AFPD website as well as on their accompanying social media outlets.
Visit www.alpinefire.org for more information.