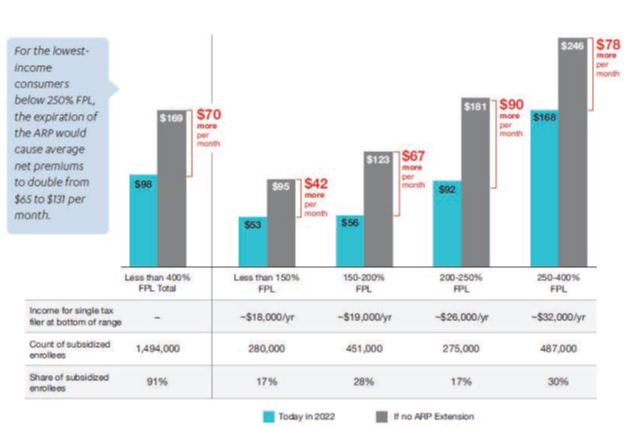 The American Rescue Plan Act, signed into law by President Joe Biden on March 11, 2021, enhanced and expanded eligibility for tax credits on Affordable Care Act marketplace plans in 2021 and 2022. Congress is scheduled to recess at the end of July as health insurance marketplaces are finalizing their rates for the 2023 coverage year but has not decided on whether to extend the ARPA. An analysis by Covered California predicts if the ARPA is not extended, an estimated 220,000 Californians could become uninsured, with premiums doubling for one million low-income consumers.
Covered California spokesperson James Scullary said the ARPA made healthcare more affordable, not only in California, but across the nation, with California hitting a 1.8 million record in enrollees due to that.
"Congress is in session right now," he said. "This continues to be something that they deliberate. But we are also at a time, not only with Covered California, but marketplaces across the country, are preparing for the upcoming 2023 coverage year."
Scullary said Covered California is negotiating with carriers now which begins its lengthy process for regulators to review, for public to comment, get things implemented into its system before sending out renewals.
"Time is running out for a decision to be made," he said. "We are working to make sure people know that this is happening. Every day the Congress delays the decision matters. The people that can least afford it will see premiums increase. On average, you will see your premium double. If you are making under 250% of the federal poverty level, there is about 1 million Californians in that group. We saw a large increase in terms of equity when it came to enrolling people and communities of color because of the increased help from the ARPA. That would be at risk."
Scullary said another key element of the passing of the ARPA, it provided financial help up to 400% of the federal poverty level.
"If you earned anything above that, you were ineligible for any financial help. As a result, Californians and Americans, particularly those older, would be spending significant chunks of their income, on health premiums alone. In some cases, we have seen where a couple would be spending 20% of their income on health premiums, and some even higher up to 30% or 35%," he said. Scullary said most Californians and American get health insurance from their job, however for people who do not have that option, they must pay the entire premium themselves.
"When the pandemic hit, you had an enormous amount of people losing their job, their coverage. We were in the edge of a recession in the state," he said. "Money was extremely tight for many people. The federal government passed the ARPA. One element of that plan was to increase and expand the amount of financial help available to people who enrolled through the ARPA marketplaces. It lowered the amount that people paid about 20%. Two out of three of our enrollees could pay $10 or less per month. Because of some of the things that the state did, many people were able to get coverage at no cost."
Covered California's analysis found if federal subsidies provided by the ARP expired, enrollees who annually earn less than 400% of the federal poverty level ($52,000 for a single person and $106,000 for a family of four) would see their monthly costs rise by an average of $70 per month (71%).
The analysis also found that Californians who could least afford the increase — those earning between $17,775 and $32,200 a year for an individual and from $36,570 to $66,250 for a family of four — would be affected the most, with their health insurance costs more than doubling. A total of 1 million Covered California consumers are in this income bracket, which is 250 percent of the federal poverty level or below.
Expiration of the ARPA subsidies would mean the return of the subsidy cliff, meaning middle- income consumers, individuals earning more than $51,520 per year and families of four earning more than $106,000 per year would not be eligible for any federal financial help. In California, these middle-income consumers would see their costs increase by an average of $272 per month.
Overall premiums by congressional district: (This does not include premium impacts of 2023 rate increases currently under review.)
CA 53rd District, Rep. Sara Jacobs:24,476 receive subsidies under ARPA. Premiums would rise by 68%, an annual increase of $1,054 if ARPA expires.
CA 51st District, Rep. Juan Vargas: 28,644 receive subsidies under ARPA. Premiums would rise by 125%, an annual increase of $696 if ARPA expires.
CA 50th, Rep. Darrell Issa: 25,250 received subsidies under ARPA. Premiums would rise by72%, an annual increase of $1,077 if ARPA expires.
Issa did not return requests for comment.
"Covered California stands ready to move mountains if Congress elects to extend the American Rescue Plan's subsidies, but every single day matters," said Covered California Executive Director Jessica Altman in a press release. "The American Rescue Plan lowered premiums and boosted enrollment among all income brackets and ethnic groups. In the absence of federal action to extend these policies into 2023 and beyond, the gains we have made as a state and as a country will be at risk."