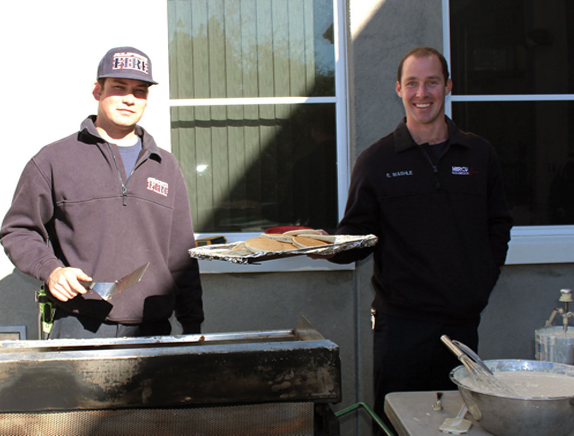 The Alpine Fire Foundation held its inaugural pancake breakfast fundraiser Feb. 23 at the Alpine Fire Station. Volunteers worked the griddle to serve up breakfast to community guests who were seated inside the firehouse, a fleet of Alpine fire trucks lined up on display outside. Area firefighters were on hand to interact with children at the event and answer questions.
The Viejas Fire Department also turned out to participate in the event and lend their support.
"Whenever we can support Alpine, we're happy to do so. We work very closely in this community, train together, it is a very positive, close relationship," said Fire Chief for the Viejas Fire Department Bob Pfohl.
Local firefighter Colby Ross said the event appeared to be a success, thanks in large part to members of the community who came out for breakfast and to support the fundraiser.
"We've done fundraisers in the past, but this is the first one of this kind that we've put on with the Alpine Fire Foundation and it seems to be a great turnout," Ross said.
Additionally, Ross specifically expressed his gratitude for donations from community organizations such as Baron's Market, Albertson's, Alpine Coffee Company, and the Kiwanis Club of Alpine. Six members of the Alpine Kiwanis club donated their time as well.
Cooking alongside the Kiwanis club members were firefighter-Paramedics Shane Ozbirn and Eric Washle.
Washle said the event was specifically held under the direction of the Alpine Fire Foundation as it is a nonprofit organization and as such can accept donations that go directly to Alpine Fire Protection District.
Where past fundraisers have benefited fire prevention, outreach, and burn recovery across San Diego county, Sat­urday's fundraiser was held to raise funds that would be used locally by the Alpine Fire De­partment for specialized equip­ment. One item on their wish list: emergency rescue tools.
The Community Emergency Response Team (CERT) also had a presence at the event, with Raymon Moreland on hand to answer questions and share informa­tion with the public. Moreland talked about Proj­ect Heart­beat, a San Diego County ini­tiative to save lives through early defi­brillation. Moreland empha­sized the impor­tance of early recognition, compression, and defibrillation, and captured the interest of nearby children by demonstrating correct techniques on learning tools placed on the floor of the fire station.
"Hopefully, this will contin­ue every year," Ross said.