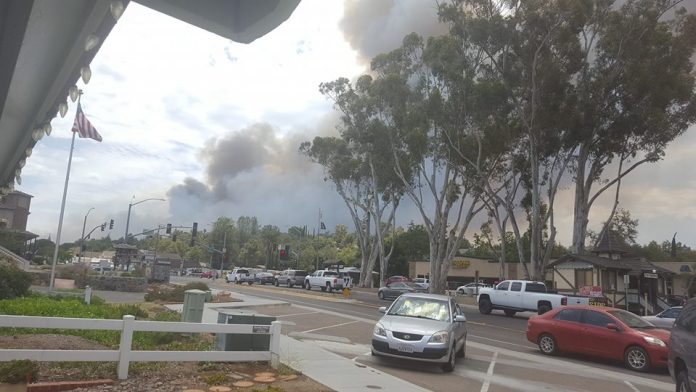 As a result of Alpine's West Fire, a local orga­nization to help provide tax-deductible donations for local causes is now a significant one for fire survivors.
Thanks to generous people, businesses and or­ganizations, donations for West Fire survivors are being made available for distribution through the Alpine Community Foundation.
Roger Garay, a foundation director, said the or­ganization checks to be sure each project brought to it is a charitable one. "It has evolved to cover the needs that can't be funded in other ways," said Garay, a co-owner of On Line Bookkeeping & Tax Service in Alpine.
That's important to survivors of the West Fire, which destroyed 38 homes, damaged 15 others, and destroyed or damaged another 21 buildings, five accessory buildings and a commercial venue, according to the San Diego County Planning and Development Services.
No one was killed or severely injured in the West Fire, but some survivors had little or no insurance. Among the agencies that quickly responded to the emergency was the Community Recovery Team. CRT works to coordinate long-term recov­ery for survivors of natural disasters in San Diego County. The Alpine Community Foundation and the CRT are non-profit 501(c)3 organizations. Ga­ray said the money donated for West Fire survi­vors through the Alpine Community Foundation will be allocated according to information from the CRT.
"It's called long-term recovery for a reason," said CRT Director Robin Clegg. "You have to go through a case manager. There's no case from CRT ready to go to the foundation. It's a process. It just depends on how fast the survivor moves."
And, Clegg said, that can take time as West Fire survivors regroup to rebuild their lives, file their CRT applications and validate their needs.
"Once we have determined how much money is needed, we will contribute some CRT dollars and e-mail the foun­dation with the case summary and need," she said.
Proceeds from the West Fire Benefit Dinner & Auction, which raised $60,250, and a do­nation of $50,000 handed to Ga­ray at a community meeting are included in the Alpine Commu­nity Foundation fund for West Fire survivors.
The benefit was presented by the Alpine Mountain Empire Chamber of Commerce, the Alpine Community Center and the Alpine View Lodge with the help of many volunteers and do­nors.
"The benefit is the biggest (effort) the foundation has ever handled," Garay said. "If you've heard about a need somewhere and you want to help out, you can bring it to us and discuss it, make the request."