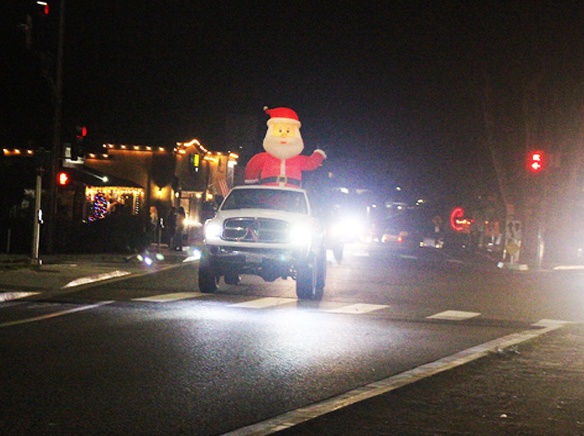 An inflatable Spider­man gripped the back of an SUV as it quickly drove down Alpine Boulevard on Friday evening, one of a few characters who passed through town during the Honkin' Holiday Cruise.
The Alpine Chamber of Commerce event started just after 6 p.m. and was os­tensibly meant to provide a spot of joy in a year marked by the COVID-19 pandemic, which kept Alpine from hosting its usual Holiday Parade of Lights.
A blow-up husky, large enough to fill the back of the Natural Instincts pet store truck, was followed by an equally large Santa Claus who struggled to stand up straight against the wind as the short pro­cession of about 15 vehicles drove through town.
As they doubled back for a second pass, vehicle pas­sengers waved to the hand­ful of people who stood on sidewalks or parked along the boulevard, as well as the few children who played nearby. Drivers honked their car horns while cries of "Happy holidays!" were repeated throughout.
—Jessica Brodkin Webb