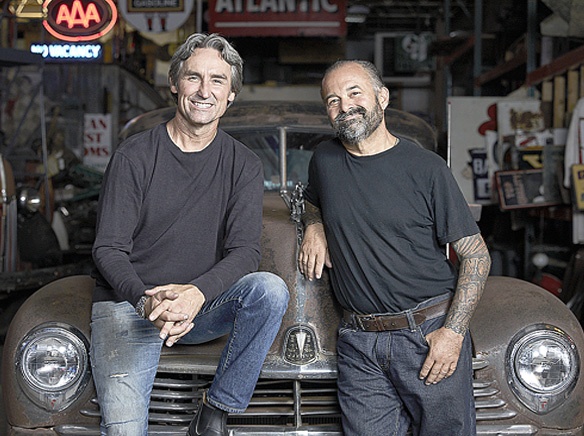 Television personalities Mike Wolfe and Frank Fritz are mak­ing plans for a return to California this December with The Ameri­can Pickers, a documentary series that has been running for over 20 seasons on the History Channel.
The show explores the world of antique 'picking' as the two men travel across the country and go through personal collections of unusual items while filming their adventures for the American Pickers television show.
The items the pickers paw through may or may not have any financial value but often have a story about American history em­bedded in the collection and the show is as much about storytell­ing as discovering a deal.
Casting agent Kourtney Myers said the way they identify people and collections for the show is by getting the word out ahead of time so people who are interested can contact show producers with information about personal col­lections they are willing to talk about and sell.
Once they identify a potential collection, the crew goes out to that person's home; everything is completed there on site.
The two men earn a living by buying the collections, then re­storing the forgotten relics to their former glory for resale, My­ers said, and they look for hidden gems "in junkyards, basements, garages and barns" all over the country.
"Mike and Frank only pick private collections so no stores, malls, flea markets, museums, auctions, businesses or anything open to the public. Please keep in mind, we are looking for different, unusual and unique items, like something we've never seen be­fore that has an interesting story behind it," Myers said.
Although the pair plan to be in California throughout December, Myers said the COVID-19 virus might require postponing their travel because they follow all the Centers for Disease Control guidelines as well as state guide­lines for each place they visit.
"We understand that with the proliferation of COVID-19, we are all facing very uncertain times. While we plan to be in California this December, we will resched­ule if conditions change for the worse," Myers said.
Whether the pickers pass through in December or re­schedule for a later time, Myers said it doesn't change the fact that they're always looking for unique collections: "guitars, marbles, all kinds of things like that. We keep it really open ended. The guys love cars and motorcycles but that's a recur­ring thing."
Anyone interested in showing off their collection to the pickers should send their name, phone number, location and description of the collection with photos to show representatives at:
AmericanPickers@cineflix.com or call 1-855-OLD-RUST (653-7878) for more information.
Myers said they also have a Facebook social media account: @GOTAPICK where people can find more information as well.