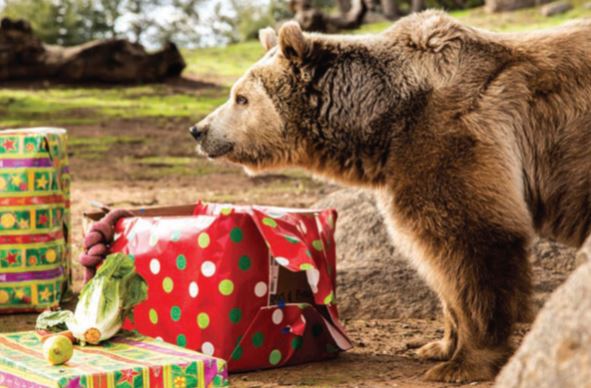 Lions, Tigers and Bears is hosting their Christmas With the Animals holiday celebration and fundraiser at the exotic animal rescue and big cat sanctuary from 12 to 4 p.m. on Dec. 11.
Founder and Director Bobbi Brink said this is the first Christmas With the Animals since the COVID-19 pandemic forced the facility to cancel most events in 2020.
"All the animals will get their Christmas presents from Santa and there will be food trucks with beverages and hot chocolate," Brink said.
Normally, she said, they receive between 400 and 500 visitors at the event, but that number might not be accurate as not everyone has returned to attending in-person events.
Typically, Brink said, the event brings in about $25,000.
"That would really help. We are trying to build a new habitat, actually trying to redo a habitat for our new jaguar and of course, anything we bring in also goes to fund medical supplies and food," Brink said.
Volunteers at the no-kill, no-breed, no-contact Alpine sanctuary wrap up presents packed with enrichment items for the big cats and bears, with many also set to receive a Christmas tree they can play with.
"We get them from different Christmas tree lots that have imperfect trees they can't sell and then if we can't gather enough of those we just buy them at Home Depot," Brink said.
About 55 of the 68 animals at the facility will be participating in the fundraiser, "the horses… the big cats, the bears," Brink said.
Meanwhile, humans can treat themselves to some shopping in the sanctuary's gift shop stocked with hats, shirts, candy, gift items, decorations and "a lot of animal related items," Brink said, as well as gift cards for future visits or events that can be given as presents.
Pricing for the event ranges from $15 to $160, depending on level of participation and whether or not participants are members of the facility.
Lions, Tigers and Bears is located on 93 acres of rural space at 24402 Martin Way in Alpine and is home to many formerly abused and abandoned animals such as grizzly bears, servals, tigers and other exotic animals, as well as some domestic animals like llamas, goats, peacocks and a macaw.
"Where else can you see a Tiger or a bear get a Christmas tree or present, one right after the other," Brink asked.
Visit lionstigersandbears.org for more information.