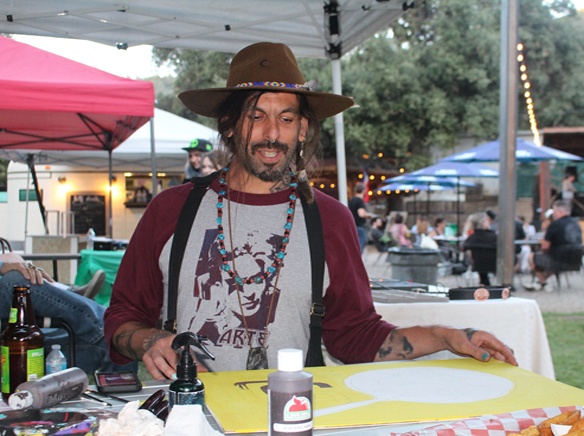 Junction Outback, the barbecue and live music venue tucked behind Des­canso Junction restaurant hosted an event on Friday, Aug. 6 that managed to combine reggae music, a cowboy theme, barbecued food and an art show with local vendors.
"This event was started because I have a local artist who brought in art­work made from Manzanita wood that is amazing. He's part of the reggae camp up here and I got with him and said we'd love to do a show.
We went ahead and did a reggae night a few weeks ago and it was an amazing turnout. So, I said, how about we do a reggae night with all the hip­pie artwork," restaurant director Cheri Coit said.
The local artist she spoke with, Jimmy Ovadia, just happens to have painted on stage alongside such wide-ranging musicians as Devo, The Scorpions, Fishbone, Jane's Addiction, Sublime and other bands.
"I used to just do gallery shows where I'd paint inside for a whole month then get to see the artwork hanging up in public for one day. Now, I get to utilize the band's audience and energy, which opens up a whole new avenue," Ova­dia said.
The band typical­ly signs the artwork he creates during their sets, and gets "first dibs" on the paintings.
At smaller events, like the one held Friday, Ovadia shows the mixed medium pieces he constructs out of Manzanita wood chips, while he paints on site. A friend and fellow artist, Dusty Ken­dig, said he discov­ered the stumps in the wake of the 2003 Cedar Fire and realized that, although killing or possessing manzanita trees is illegal under the California Endangered Species Act, the salvaged stumps were legal to use as a medium and could live on as pieces of art if Ovadia incorporated them into his work.
"Probably nine-tenths of what can be found is so destroyed that it can't be used, so when you find a good piece, it's like find­ing gold. There is something to using them in art instead of allowing them to just rot back into the ground. It's a sort of 'rise from the ashes' concept," Ken­dig said.
Although he works out of a studio in National City, Ovadio shows his work weekly at the Ocean Beach Farmers Market in addition to the music shows he often attends.
To one side of Ovadio, silver­smith Tom Schmidt said he'd learned silverwork from his fa­ther but stopped when he left home.
After working in construction for 30 years, his body "started saying it was time to get out" and he began revisiting silver­work. He's now worked with silver and copper for about four years in addition to the cabo­chons he creates and embeds in many pieces.
At the next stall down, Pine Valley Honey owner Rebecca Kowalski said the spread of jarred honey filling the table in front of her was one of two rounds she would be selling at Junction Outback over the week­end.
The 36 hives of bees she and her husband Brian Kowal­ski maintain generate enough honey for three harvests each summer and their stock usually sells out by springtime.
"We had the last harvest this week, the third one of summer," Kowalski said, with the next harvest slated for May 2022.
Across the shady, green ven­ue, Bridgette Jensen told attend­ees about her candles while the headlining reggae band, Cruz Roots took the stage.
Asked why her brand is named Scentiment 1750, she said the number does double du­ty: initially it was her home ad­dress and was a temporary moni­ker but she later researched the digits and discovered they are considered an Angel number.
"They actually represent the angels aligning so people can go forward with confidence and new plans," Jensen said.
Coit took a break from be­hind the warm, wooden coun­ter where her son Johnny Coit was plating orders, and walked around the event to greet cus­tomers and check on vendors.
Her next event, she said, was planned for the following day: live music by Crossroads with all proceeds slated to benefit Mountain Empire students in need of new school supplies.
Descanso Junction and Junc­tion Outback are located at 8306 CA-79 in Descanso. Visit @The­DescansoJunction on Facebook for upcoming event information.