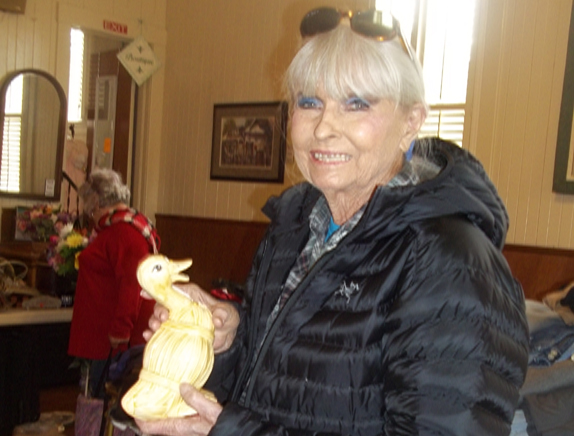 Jan Fisher of Alpine looked closely at the colorful ceramic duck she held in Alpine's historic Town Hall.
Fisher likes things from Ja­pan and she was having a good time hunting for them on Feb. 1 during the first of the weekend annual Attic Treasures Sale. It's held in what is now the Alpine Woman's Club at 2156 Alpine Blvd.
Dozens of other people were also browsing through the care­fully displayed eye-catching china, gorgeous crystal pieces, unique furniture and other do­nations.
"I have a full basket of things I've already bought," Fisher said. "I'm looking for more."
The sale was a great place to find bits of the past, new and old books, sports equipment, elec­tronics and more.
The Attic Treasures Bou­tique, set up on the restored old hall's classic 1890s' stage, drew women to current and vintage clothing as well as jewelry.
"All of our sparkly items went right away," said sales team member Anne Knuth.
Club President Linda Whit­lock said the club — a member of the Alpine Chamber of Commerce — doesn't set an income goal for the sale because weath­er and other things can affect shopping.
"The money goes for the pres­ervation and maintenance of the Alpine Town Hall and scholar­ships for high school graduates from Alpine," Whitlock said as three more smiling shoppers ap­proached the cash register.
Maria De Alta of Alpine was leaving with her daughter, Christina, who held kitchen items they had bought in addi­tion to other things.
Inside the hall, Cindy Elwood of Omaha, Nebraska, said she was visiting relatives for the weekend and happened on the sale. She was still shopping.
"I found a sweat shirt and some scrapbooks," Elwood said. "I just like to look at the treasures."