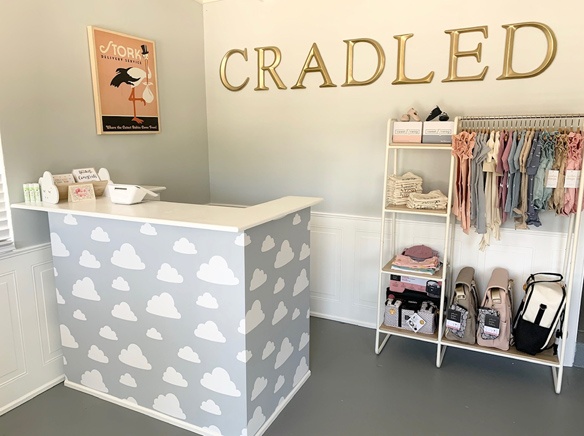 Julia Velasco laughed wryly and said the funny thing about launching Cradled Boutique is this was actually her third at­tempt to open a shop on Alpine Boulevard.
"This business has been my dream for ten years. I signed the lease two years ago, then had some unexpected health problems and had to break the lease. It was devastating to put aside my plans," Velasco said.
Two years later the landlord contacted her to say the space was opening up again.
"I first signed this lease March 1, all ready to go this time and then everything shut down in the middle of March with the COVID pandemic. The landlord was wonderful about it; she gave me a break and I picked back up with the lease for the third time in May," Velasco said.
After spending several months remodeling, she was fully prepared to open up shop when the county shifted to the purple tier and limited store capacity. However, Velasco said a smaller opening with fewer customers allowed in the store has worked out well as she likes taking time to talk with customers.
"I do have an Instagram and a Facebook account where people can reach me but I'm not really selling anything online. I like the personal side of it, helping people put together the perfect gift," Velasco said.
Instead, she also books pri­vate shopping appointments for local residents so they can come in a convenient time while the county has limited store capac­ity.
"I've also been shipping gift packages to family members who aren't local," Velasco said.
The new owner and experi­enced mother, who turned 35 on Sunday said she worked in the baby industry for ten years after having her son, learned what brands she favored.
Inside the shop, the shelves are lined with body care items to help pregnant moms get through those nine months, as well as newborn gear and tran­sitional items for older babies.
"Let's see, here in the shop I have clothes, diaper bags, teeth­ing toys, regular toys, baby care items like shampoo and lotions, lots of little gift items, some pregnancy stuff like belly oil and morning sickness sweets— basically anything you'd give for a baby shower or nursery gift.
She stocks some smaller fur­niture items in store from the Stokke line, a Norwegian brand of high-end cribs, highchairs and other items designed to physically bring babies closer to family members.
"There isn't a whole lot of space in here to stock lots of furniture in store but I can or­der anything directly from the company as well. When I had my son, I became obsessed with baby stuff and I know the lines pretty well," Velasco said.
The bottles are environ­mentally-friendly glass and a sampling of backpacks hang in view, all geared toward active parents; tiny outfits hang on dis­play near a shelf of soft-soled shoes for newbie walkers, much of it locally sourced.
"I really try to support other small businesses when I pur­chase products for the shop so a lot of the brands I carry aren't something you'd find on Amazon or in big box stores," Velasco said.
Eventually, Velasco said, she will likely host baby showers in the shop but "it just isn't some­thing I can do right now with COVID restrictions in place".
She is hoping January brings lighter restrictions so she can increase her store capacity. In the meantime, she said, there is plenty of room for five or six people "like a few friends or a small family" to come by and shop.
"I'm at 2507 Alpine Boule­vard, across the street from Alpine Tavern and Janet's cafe," Velasco said.
She can also be found online at www.cradledboutique.com, and on Facebook and Insta­gram social media pages at: cradledboutique.