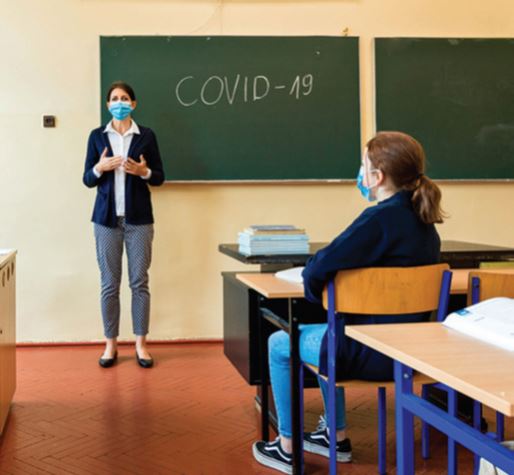 California State Superin­tendent of Public Instruction Tony Thurmond held a virtual briefing on Dec. 17 in which he called for a focus on recovery efforts after students return from winter break.
Citing the current death toll of 160 Californians per day, Thurmond said the public stay-at-home order is in effect and students, many on dis­tance learning, are feeling the effects of the COVID-19 pan­demic that first closed schools in most districts on March 13.
Alpine Union School District Superintendent Rich Newman said on Nov. 11 the district is still planning to have students return to campus four days a week for in-person learning on Jan. 19, 2021.
There were no active cases in campus learning students prior to being released for win­ter break on Dec. 18.
There is no question, Thur­mond said, that a forthcoming vaccine "represents an oppor­tunity to get our schools open," and said he is calling for educa­tional staff to be at the front of the line for that immunization.
However, as the first doses of the newly approved Pfizer vaccine arrived in California on Dec. 14, Gov. Gavin New­som said distribution would be staggered.
"Vaccines will be adminis­tered in phases by prioritizing groups according to risk and level of exposure. Initial doses will go to California's essential healthcare workers and those among our most vulnerable in long-term care settings;" a timeline has not yet been es­tablished to indicate when school personnel would be on schedule for immunization.
"We need to look at how we can support our schools in the meantime," Thurmond said. "$2.1 billion has been dissemi­nated to our collective school districts," and another round of mini-grants meant to reduce learning gaps that can be used with families were released this past week.
Thurmond also said the De­partment of Education posted webinars intended for educa­tors that focus on social-emo­tional learning gaps.
"We know the pandemic has affected everyone with depres­sion and suicide rates but es­pecially our students," Thur­mond said.
Anticipating a post-winter break attendance slide, he said school districts will identify students who have not checked in. "We also have to be provid­ing rigor to those students who have thrived through distance learning," he said, although "We've had to shelve some pro­grams and move into survival mode" for the duration of the pandemic.
"We are in the most difficult of circumstances," Thurmond said.