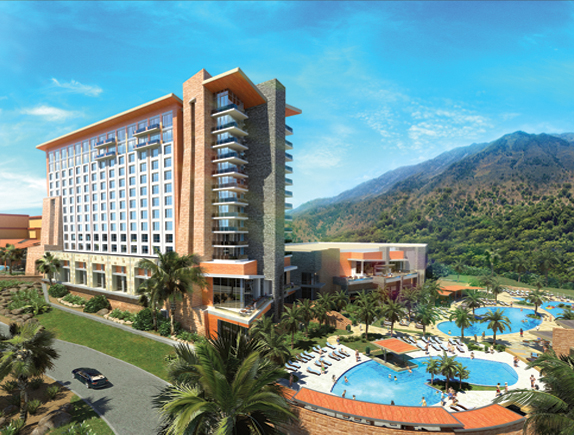 Two regional casinos re-opened their doors to the pub­lic this week despite concerns from the county's leading health authority and the gov­ernor of California.
Representatives for Sycuan Resort and Casino, however, said they have taken necessary precautions to protect visitors from COVID-19, a cornavirus that has infected almost 6,000 people and led to 211 deaths countywide.
The casinos initially closed their doors to the public in March when stay-at-home or­ders were issued locally.
In a statement provided by Sycuan Casino communica­tions manager Stephanie Lac­sa, the chairman of Sycuan Band of the Kumeyaay Nation said the casino and resort had modified its operations and properties to mitigate risks to employees and the public.
"We are slowly opening se­lect venues and gaming areas in phase one of our reopening and will continue to evalu­ate our reopening strategy to maintain a safe environment for all," said Cody J. Martinez. "We are excited to welcome back our guests and start bringing back the hospitality, gaming and fun that Sycuan Casino Re­sort is known for. I want to thank our guests and team members in advance for their patience as our additional safety measures will undoubtedly create some inconveniences for them, but please know they were put in place for a good reason."
When news of the reopen­ings was made last week both Gov. Gavin Newsom and San Di­ego County Health Officer Dr. Wilma Wooten expressed their concerns over the reopening of casinos, both stating that it is too soon to open during the cur­rent status of the pandemic lo­cally. Nevertheless recognized the sovereignty of tribal nations.
Wooten said that opening casi­nos causes a risk to local public's health during the county's daily briefing on May 13.
"We do not agree with the reopening. I think I cannot be more clear than that," she said, later adding that the county would work with the Center for Disease Control and tribal lead­ers.
According to The Los Angeles Times Newsom two days later urged Native American casino operators to reconsider.
"I am not asking that tribal governments receive authori­zation from the state or local governments prior to mov­ing forward with reopening or suggesting that tribal casinos remain closed indefinitely," he wrote. "However, in the spirit of sovereign-to-sovereign engage­ment I respectfully request that until a surrounding or neighbor­ing local jurisdiction has legally progressed into Stage 3, your tribal casinos remain closed."
Native American tribes are considered sovereign nations and are not subject to statewide laws implemented to prevent the spread of the coronavirus.
"We disagree with any legal interpretation that allows the county any jurisdiction over ac­tivities on a tribal reservation," Sycuan Chief of Administration Adam Day wrote in response to Wooten. "However, we share the same concern for public health and safety, and that is why our re-opening plan incorporates all federal, state and county public health guidance and industry best practices — over 700 differ­ent requirements to be approved by our regulators. We are highly confident our patrons and em­ployees will be as safe as pos­sible as we slowly re-open our facility in phases over time."
Sycuan's health and sanita­tion program was reviewed and approved by the Sycuan Gaming Commission, an independent agency that is responsible for tribal, federal and state com­pacting gaming laws, according to the Sycuan tribe website.
According to Sycuan, guests will be directed to practice phys­ical distancing with floor decals to display standing at least six feet away from people they have not traveled with while stand­ing in lines, using elevators or moving around the property. They also have installed plexi­glass shields in close contact areas, such as casino cashiers, restaurant cashiers, Club Sycu­an Desks, VIP host stations and hotel check-in
Lacsa said Sycuan is working on testing protocol for employ­ees and that information will be sent out to the public at a later date.
Viejas reopened Monday and Sycuan Wednesday. Barona Ca­sino has not announced when they are re-opening.