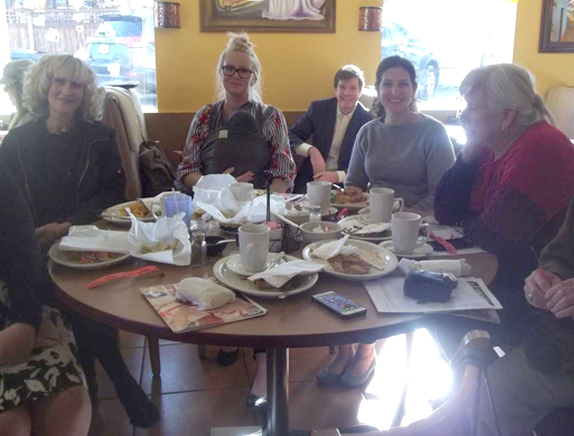 The Alpine Chamber of Com­merce is getting ready for SAM!
That's the Chamber's first Spring Art & Music Festival on Saturday, April 13, at the Alpine Community Center, 1830 Alpine Blvd.
Chamber Executive Director Alex Ward made the announce­ment at the organization's monthly "Hot Topics" Breakfast meeting on Feb. 12, It was at Al Pancho's Mexican Restaurant at 2139 Alpine Blvd. in Alpine.
"We will have vendors, fine arts, musicians and crafts," Ward said.
More SAM information will be available soon!
Ward also told the crowd that the March 23 Third Thursday evening mixer will be at Saddles In Service in East San Diego County.
A new Chamber member, Saddles In Service is a veteran-founded nonprofit equine therapy program to help active duty military, veterans, law enforce­ment, firefighters and first responders.
A week later on Thursday, March 28, Ward said, the Alpine Chamber will co-host a wine tasting mixer with the East County Chamber of Commerce at the Granite Lion Cellars in Jamul.
"That event will also fill up," the Chamber director added, urging members to make reservations now for both mixers.
For more information about SAM and the mixers and to make reservations, call the Chamber at (619) 445-2722 and visit www.alpinechamber.com!
Please help the Alpine Histor­ical Society fix plumbing fail­ures, deteriorating water pipes and an aging septic system at its Caretaker Residence!
"The historical society build­ings are very old," Carol Morri­son, Historical Society archivist and a Chamber Ambassador, told everyone at the Feb. 12 Hot Topics breakfast.
The all-volunteer Historical Society is asking people to do­nate to help repair or replace pipes installed in the 1940s.
"We're having a great wa­ter problem," Morrison said. "The estimated cost (to fix it) is $8,000. We can't wait even three months. We would really appreciate community support for this."
The nonprofit organization is assuring that donations to its 2019 Capital Campaign are fully deductible in accordance with tax laws.
Donations may be made on­line at www.alpinehistory.org; by calling (619) 659-8740 or by mailing checks made out to the Alpine Historical Society to P.O. Box 382, Alpine, CA 91903.
Thanks to Veterans of For­eign Wars Bert Fuller Post 9578 in Alpine, the Chamber of Commerce now has a beautiful large new U.S. flag!
Carl Silva, Quartermaster of the Post at 844 Tavern Road, presented the Stars and Stripes as well as a stand to Chamber Executive Director Alex Ward during the Feb. 12 Hot Topics meeting.
"The VFW is proud to be part of this Chamber," Silva declared.
For great meals and good times, enjoy the Post's hospital­ity during the weekends,
Call (619) 445-6040 or visit www.VFW9578.com for VFW events and/or membership information!
The Alpine Chamber of Com­merce is looking now for a work­ing college professor, photographer, heating and air condition­ing repairman, and others for the 2019 Career Days for Alpine and Mountain Empire students!
If you or someone you know might be interested in spend­ing a morning helping our local students prepare for brighter futures, please call or e-mail Lori Bledsoe, Chamber events director, now. Other vocations, colleges and agencies are also welcome.
The Mountain Empire Uni­fied School District Career Day will be on Friday, March 22, at the Mountain Empire High School in Pine Valley.