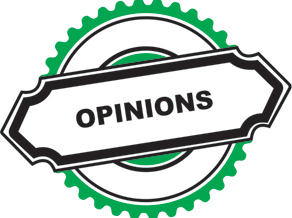 There has been a problematic pattern emerging in Alpine, where the input and desires of residents are set aside for a grander, 'multi-modal' agenda by the County of San Diego.
First case in point: Over a year ago, in June 2021, all street parking was removed from Victoria Park Terrace, which runs between the two sides of the Crown Hills subdivision. There was no notice given to residents, nor any community input sought from them. One day, the 'No Parking' signs simply appeared, and residents and visitors were left with absolutely no on-street parking on that very wide, very safe street. Just recently, a second issue emerged: 'Bikes May Use All Lanes' signs popped up on South Grade Rd., along the entire perimeter of Wright's Field (and even beyond, towards Tavern Rd. to the west.) The portion where the signs are is approximately one-mile long and the whole segment has a double-yellow line. This means that if a driver gets stuck behind one or more bicyclists that opt to use the whole lane, a motorist is legally obligated to follow them without passing as both traverse that long one-mile stretch.
I wrote to the County last week and finally got this bureaucratic answer from an Assistant Engineer:
I have received your question regarding new signs installed on South Grade Road. We recently installed bike lane signs on the road as South Grade Road is in our County of San Diego General Plan, Mobility Element Network. The Mobility Element provides a framework for a balanced, multimodal transportation system for the movement of people and goods within the unincorporated areas of the County of San Diego. A balanced system uses multiple modes of travel including motor vehicles, public transportation, bicycles, pedestrians, and to a lesser extent, rail, and air transportation. While the automobile is the predominant mode of travel in the unincorporated County due largely to its rural character, opportunities for increased mode choice are addressed in this Element.
My complaint is not against bicyclists at all, but rather the County. I'm waiting to hear back what kind of community input or notification was given on the South Grade signs, and if any thought was given to motorists potentially being stuck for up to a mile and the increased potential for conflict. It seems the County took the easy (cheap) way and called it good, instead of investing in the creation of a bike pathway with jersey walls (similar to the Coronado Bayshore Bikeway, which would actually PROTECT bicyclists.)
Now back to the first case on Victoria Park Terrace: The County was only somewhat responsive. As of this past January, they stated they re-worked the design to give back on-street parking on just one side. However, after six months, the bike lanes are still there on both sides.
With the new County Regional Park/Sportsplex coming soon to Wright's Field (at a much bigger scope than many in the community want), I can't help but wonder what else the 'County knows best' for us, and what future surprises might lie in store without fully informing residents and seeking their input.
I encourage Alpiners to contact the County Traffic Engineering with any concerns and questions they have. I also encourage us all to start attending the Alpine Planning Group meetings (in the past, I had attended a few but lapsed as I concentrated instead on the San Diego County Board of Supervisors meetings – eye-opening fodder for future letters and opeds.)
Remember – we get the government we tolerate. The County did listen before, but more voices amplify the message. If you have concerns, please take the time to make them known to the County:
County of San Diego – DPW, Traffic Engineering Section
5510 Overland Ave., Suite 410, San Diego, CA 92123
Phone: 858.694.3860, Email: Barra.Manaseer@sdcounty. ca.gov
Mary Davis Alpine