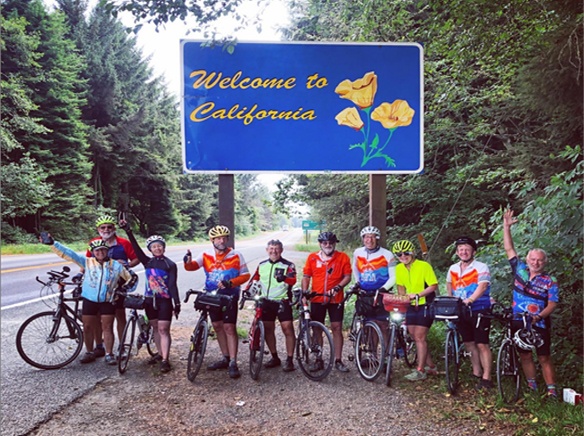 After a two-year hiatus due to the COVID-19 pandemic, Bike the US for MS is back at it with plans to pedal across 3,000 miles and eight states over the next 56 days. Their first stop? Alpine, CA.
The group of 13 riders accompanied by two route leaders took off from Mission Beach Sept. 8, kicking off the first leg of their southern tier route. They are one of six groups crossing the United States in one direction or another, raising attention and funds along the way toward research and support for people living with Multiple Sclerosis, a chronic disease that attacks the central nervous system.
Route leader Duncan Moore said the group will spend their first night on the road at Alpine Community Church, as in years' past, eating a solid meal and rehydrating before they ride off into the Southern California desert.
"We're looking forward to being able to help the group of riders coming through, excited to greet them in the high heat and hopefully get them out of the sun for their first hard day's ride," ACC representative Ray Sopfe said.
"We stay on church floors, campgrounds, we pretty much only use hotels on the first and last day unless something comes up. Like, we're going to go through El Paso and our usual church is under construction so we'll stay in a hotel there," Moore said.
Typically, he said, route leaders bike every other day. A trailer follows along with the group, Moore said, stocked with their camping gear and a change of clothes, but not much else. Riders sometimes "eat peanut butter and jelly rolled in a tortilla on the side of the road" and try to keep an eye out for signs of support if they know they're going to be hung up by a certain roadmarker.
"For some people it's a lifelong dream and goal to do something like this, others just have a strong connection to MS and do a day or two at a local event and want to jump in for more," Moore said.
There's a fundraising minimum for each route and some people raise funds through work or community groups, Moore said, but the majority of the riders gather individual donations for the nonprofit organization.
"Although we are a community church and always want to support our local community, this is a way to reach a larger group who are raising money for the worthy cause of MS. We're so excited they're back doing the ride again," Sopfe said.
For two years, the organization held only virtual rides and retained just one full time staff member to keep the bones of the organization in place.
"We had to take two years off so we tried to keep people engaged with virtual rides, we did a tournament bracket with favorite cities. This year, though, we're back on the road, although one team did get a Covid outbreak so they stayed at a campsite for four days. Everyone is vaccinated and boosted but once one person gets it, everyone gets it," Moore said.
Generally, he said, they've had churches and other community groups say they're excited to see them passing through town again but there are pockets of America that have visibly changed.
"One of the bigger changes we've seen from COVID is some small bike shops and restaurants in the middle of nowhere had to shut down. We really depended on some of those smaller shops and they're gone now," Moore said.
Since the pandemic, he said, they've also had a higher number of retirees come out to participate and having them relearn how to live and travel with 15 to 20 other people means "going back to their college years" and presents a bit of a challenge.
The reactions from strangers have not changed, he said with a chuckle.
"Every now and again we'll have people walk up in a parking lot and their jaws will drop. Like, we're not biking 50 miles but 3,000 miles," Moore said.
Most of those days have at least one "magical moment" he said, where there's an amazing view or a shared moment that sticks with riders.
"A woman who has MS met up with us at Carlsbad State Beach and shared her story with us. Then, there's the type of strangers who just walk up and start talking," Moore said.
The weather is another challenge, the route leader said, and they are at the mercy of geography.
"We're fortunate not to have had storms or fires shut us down this year but our next stop is scheduled for Brawley. To get there, we have to bike 93 miles with no campgrounds or anything in between so we have a van providing water every 15 miles with water. It's not easy," Moore said.