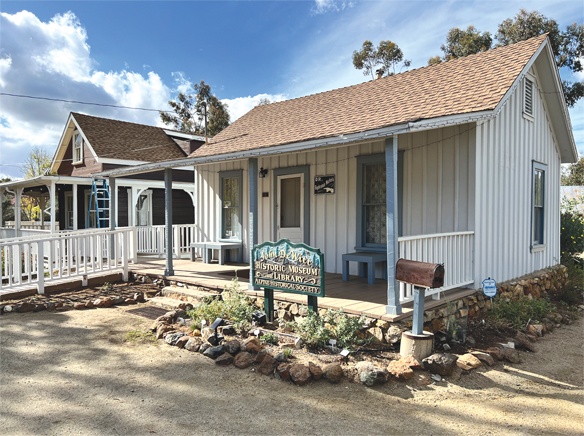 The Alpine Historical Society is hosting an event at their John DeWitt museum from 3 to 5 p.m. on Dec. 17 that will have historic items for holiday shoppers to purchase but is also designed as an open house for the community.
AHS Vice President Bob Ring said there will be "all kinds of historical Alpine things" for sale such as books, blankets and local honey, and that the museum will have several larger items out on display including the beloved historic buggy which hundreds of Alpine schoolchildren have seen on past field trips, Rorie the ape who once lived at Dinosaur Land, and a 1942 fire truck on display.
"I think what makes this event unique with so many holiday events happening in December is that it's strictly the museum with no outside vendors. It's a holiday chance for people to get reacquainted with the museum. We'll have little bags of candy for the kids and we'll have our docents there to give tours and explain the artifacts. It would be great to sell stuff to generate funds but by doing it this way, it's more about getting more exposure and it's fun for people to come out and enjoy," Ring said.
Proceeds from the day's sales will go toward building a garage to house the historic fire truck on site. The fire truck, Ring said, came full circle to Harbison Canyon from a Japatul resident whose father owned the truck.
"The fire truck was restored in 2015 but it sat parked underneath a tree at her house until a buddy of mine and I dragged it out. We took it to my house, buffed it up and fixed it up, and it turns out that it says Harbison Canyon Fire Department on the old doors," Ring said.
The retired fire truck will be out for viewing during the holiday event along with the historic buggy and a group of Model T Ford cars, and Rorie the ape.
"Rorie is a unique item, a huge, fiberglass ape— it was originally in the tree by the Log Cabin Cafe which burnt, then was moved to Dinosaur Land, then sat in storage for about 25 years. When Rorie came to the museum, we put it in the trees and now it makes for a great photo opportunity with a giant ape," Ring said.
Come 2023, Ring said, the museum will be holding a quarterly open house in an effort to engage the community.
"We want to work on a program Corrinne Lewis and I started called 'What's Your Story?' in which longtime residents of Alpine can document their family's history," Ring said, as the society works to preserve local lore from roughly 1971 through today.
Eventually, Ring said, he wants more residents to stop by the museum rather than driving by.
"The wheels of change move slowly and it is taking us a while but we're diligently working toward bringing the museum up to speed and making it more of a community destination," Ring said.
The historical society and accompanying museum is located at 2116 Tavern Road.