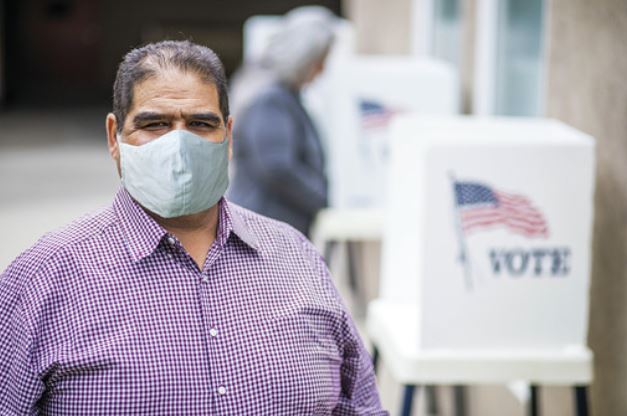 Summer of 2020 in San Di­ego had two constant themes in the local news cycle: the COVID-19 pandemic and reg­ular protests associated with the Black Lives Matter move­ment that were heavily at­tended by counter-protesters and vigilante groups. Both ongoing news items are cause for San Diego voters to take safety precautions when visit­ing the polls this year.
Californian Secretary of State Alex Padilla issued an Oct. 6 notice to Registrar of Voters offices advising "coun­ty elections officials should be prepared to handle inci­dents involving disruption and/or voter intimidation at the office of the elections offi­cial and/or polling locations."
San Diego County commu­nication officer Tracy Defore said the San Diego County Registrar of Voters has been working collaboratively with state, federal and local law en­forcement agencies to ensure safe and secure operations at all polling places and mail ballot drop-off locations, and stands ready to respond to any credible intelligence provided by law enforcement.
"Poll workers are trained on de-escalation techniques and on what actions to take if there is a disturbance at a polling location," Defore said.
San Diego County Sheriff media relations director Ri­cardo Lopez said the Regis­trar of Voters is the best re­source for safe voting infor­mation.
According to the county Registrar of Voters, 235 super poll sites will be open from 8 a.m. to 5 p.m. beginning Satur­day, Oct. 31, through Nov. 2 for in person-voting.
All of the sites chosen as polling stations for the upcom­ing election facilitate people safely maintaining a six-foot circle of space around them for social distancing.
Some sites, such as El Capi­tan High School in Lakeside have a fence surrounding the entire property that physical­ly limits the presence of polit­ically-charged activist groups from the area where citizens cast their votes.
However, that does not pre­vent any group from rallying outside the campus boundary.
Californian state elections code 18541 clearly limits elec­tioneering—the visible dis­play or audible dissemination of information that advocates for or against any candidate or measure on the ballot— within 100 feet of any voting locations.
The Registrar of Voters also advises anyone voting in per­son to: make sure they go to their assigned polling place, which can be found on their website at www.sdvote.com; be prepared with voting choices before venturing out so there is little time spent at the poll­ing site; vote early or by mail if possible to avoid long lines; bring a face mask and be cog­nizant of social distancing.
They also assembled a 2020-specific safety informa­tion flyer which includes a re­minder that intimidating vot­ers, campaigning within the 100 feet limit of voting loca­tions and vandalizing polling places are all illegal.
"Report suspicious behav­ior to the Registrar's office at (858) 565-5800 or to the San Diego Law Enforcement Co­ordination Center (858) 495- 7200 or www.sd-lecc.org," De­fore said.