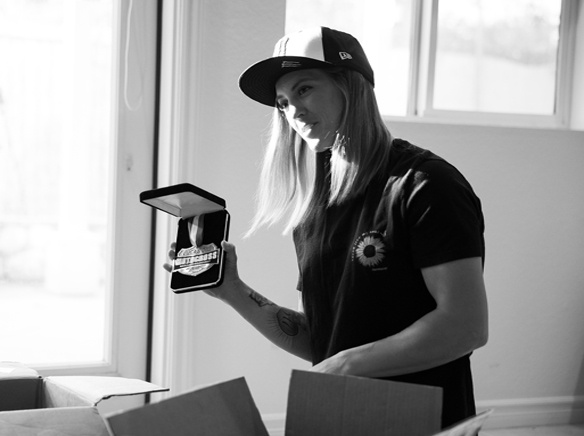 Vicki Golden is a professional freestyle motocross rider, the first woman to break the top 10 in AMA ArenaCross Lites Main, the first woman to qualify for the Fast 40 Monster Energy AMA Supercross, the first woman to compete in a freestyle Moto X Competition, named the Loretta Lynn's AMA Women's Amateur National Champion, earned three gold medals in Women's Moto X racing and the X Games, was the TransWorld Motocross Magazine's Female Rooke of they Year, and nominated for an ESPY Award for Best Female Action Sports Athlete.
Golden, from El Cajon, learned the love of dirt bikes with her family, which was a hobby for them, getting her first at 7-years-old, and began her professional career at 17.
805 Beer is released its latest documentary film, "Inverted Perspective," featuring the pioneer of female speed racing in a largely male dominated sports this week on YouTube. The documentary chronicles the milestones and legacies of Golden's life and career. The film explores her personal obstacles, from the tragedy that struck her family when an ATV accident left her father paralyzed, her revolutionary impact on the sport, her achievement of the sport's female-firsts, and her continuing legacy for a generation of female riders to follow.
Firestone Walker Brewing Company's 805 Beer recently added Golden to its roster of "Authenticos," a band of ambassadors who embody authentic values in their respective disciplines. 805 Authenticos collectively represent the culture and values of the Firestone Walker and 805 ethos. Other 805 Authenticos include pro-surfers Conner Coffin and Nate Tyler, professional MMA fighter Tabatha Ricci, pro-skater Greyson Fletcher, professional motorcycle rider Tyler Bereman, promountain biker Ryan Howard, and off-road racer Jessy Nelson, among others.
"Vicki has spent her entire career as a trailblazer, considered by many to be the most successful woman on two wheels," said Dustin Hinz, Firestone Walker Brewing Company Chief Marketing Officer. "The work she's done for the sport of motocross, women, and future champions lives as a testament to her legacy. She's an incredible talent, athlete, and human being and it was a privilege to tell her story. We are honored to have Vicki as part of the 805 Beer family and hope the world enjoys watching her story as much as we did making it."
Golden, with all of her successes, whether racing or freestyle, as long as she is on two wheels riding, she is happy. She moved up to the Temecula/Murrieta area at 16 with her mother, because there were no places to ride in San Diego.
"We were always traveling up to this area to go riding, so it kind of made sense to eventually make the move from up here," she said. "My mom stayed here with me for a year or so, but it made it too tough for her to be going back and forth because her work was down there, and my dad was down there. She still needed to take care of him. It became too much of a drain on her, so once I was almost 18, she decided to go back home. So, I have been pretty well on my own this way for quite a while now."
When young and in competition, the family joke, her father would say, "you made another boy cry," because they got beat by a girl. Golden said as she grew, competed more, that the mutual respect between her and her male peers came by her riding speaking for itself.
"It comes down to being a good human," she said. "That is first and foremost. None of the boys that I surround myself with are bad humans, so they showed up, treated me with respect just because I was there and wanted to ride. We have likeminded goals. Then, I just let my riding speak for itself. I always put the work in to be sure I ride the way I want to ride to get to that top level, and that is who you wind up surrounding yourself with. You want to work together, have fun, and you are all at the same level doing the same thing. It is pure fun. No one is holding back. It does not really matter about male or female. It is just somebody riding a dirt bike."
Golden said that the sport is definitely an adrenaline rush, but for a split second in the air, there is a freedom like nothing else.
"It is pretty crazy if you jump something for the first time, your heart sinks, and it is kind of like a roller coaster," she said. "Once you can kind of spot the landing, it is a calculated guess, but at the end of the day it is still a guess. Once you start nearing the landing, knowing where you are actually going to land, and land on the downside of the landing, it is probably the coolest feeling in the world. One, you just jumped this thing for the first time, and it is a great feeling. And the second part is that you are going to be able to walk away from it and you guessed right. It makes it an unbelievable feeling and that is why we chase it all the time." Golden said with the cinemaphotography that is available now, when she watches performances, she can see what she felt as she was jumping and has a dual experience of feeling and seeing at the same time.
"Having those two experiences of what you felt, and then what you see and get that complete different perspective, it adds so much to it," she said. "Maybe some jumps I did not feel like I was going up so high, then you look, and you were that high and vice versa. When you see it on camera, and you felt like that jump was so freaking high and I cannot believe what that looks like. It is really cool now to see in a really detailed perspective with the cameras we have now, what we feel and what we see too."
Golden was the first woman to do the front free-hand flip, an extremely difficult and dangerous trick.
"I started learning the trick in a foam pit a few months prior," she said. "For me, I probably had the trick accomplished in a few weeks, but I really wanted to make sure everything was sound and create a muscle memory for it, to where if anything went wrong, and I needed to adjust in that split second, that my body would take over and know what to do. I would not have to go through my brain to know what to do. I took extra time and did about 100 more in practicing to create that muscle memory. That split second is make or break, so that is why I did so many. Once it was time to pull all the safety bags away, everything went as well as it could have."
Golden said learning that she has become a role model to young kids happened in small increments throughout her career with young kids coming up to her and "being really stoked," but did not realize the impact that she has on them until around 2019.
"I knew I was looked up to, but I did not honestly see the impact until I started getting closer with a few younger girls to help them along their way," she said. "If their parents cannot financially afford things, then I try and step in and help out. Seeing the impact of the little things that I do, and things that I do not even know that I do, it is true what they say. Kids are like sponges. Some of these young girls, their parents tell me that I told them I eat broccoli, and then they go home and eat broccoli. It is crazy that I can have that impact that heavily without me trying to do anything. But it made me very aware of what I do, what I say, and how I act. Even more so now, being 30 is obviously different than being 20. Having that impact being seen in a different light has definitely helped a lot.
"I am still pretty busy, and I am still in the prime of my career, so it is not as much as I like. But I still take the time if they are around, and our schedules line up, I will take the day and go ride with them and try to give them a little coaching here and there, spend the time with them and keep them stoked on dirt bikes. That goes a long way. I think later down my career path when things start to slow down, that side will pick up even more."
Red Bull Imagination is a new venue to the sport of motocross. Golden said that everyone grasped their basic concept of going racing where they build a dirt bike track and there is a set start and finish line. You drop the gate, and everybody goes racing and compete. The other side of the spectrum, there is freestyle, where there is a course built and depending on the tricks that you do, you get scored and that is how you finish is based on the score you get.
"If you were to watch X Games and see a state competition where skateboarders have the same course that is built, but they get to pick their own one, their own runs, whatever tricks they want to do. If they want to hit all coping, and no stairs and no rails, they can do that because it is their choice," she said. "My good friend Tyler Bereman, who you saw in the film, his mindset was to replicate that for dirt bikes. Basically, it is just a big skate park for bikes to where there is no start and finish lines. There are no set jumps that you have to hit. He has created so many jumps that it is impossible to hit them all. So, it is up to the rider to pick their run and where they want to go. We basically get three minutes of freedom where we get to go wherever we want and do whatever we want. If we want to do tricks, great. If we just want to style over the jumps, great. It is all up to us what we want to do and just show our creativity and show what makes us, us, and what makes us different from all the other riders. It is that gray area in the middle where we are not really racing, we are not doing a set specific trick in a run, it is just creative freedom and whatever you end up doing is your score and how you finish.
"That is something we get to do at home in the middle of the hills, so we created a place that people could come watch and experience us jumping something for the very first time and what it looks like, what it feels like, and all the things that go into it that not many people get to see. It is a very special vibe that is hard to capture. It is a new thing. It has only been out for about three years. It is pretty normal in skates, boards, and bikes, but pretty new in our sport. Having that complete freedom for me to just ride was kind of tough for me because I am so used to the start and finish line that I reached out to Tyler and told him I needed help making a run because I have never done this before. Normally, if we have fun and go out riding, but creating a run in a certain amount of time, it is a whole new ballgame. But it was fun to learn."
Golden said her advice for young girls who want to compete in a male dominated sport is to simply not look at it that way and they should progress the way they want to see them progress in a sport.
"At the end of the day, it comes down to dedication, hard work. Rome was not built in a day, so if you can pick at it every day, the most important piece is having fun doing it. If you can have fun doing it, the hard work comes naturally. That is how you go far," she said.
Golden said her relationship with 805 started as a friendship of being partners with the same gear company of Fasthouse.
"They work very closely with Fasthouse and I had been with Fasthouse for a handful of years prior," she said. "Being around each other and already getting to know some of the people that work there. Obviously, taste test help, and I love the product. It is a company that I knew about years and years prior. I knew the story, 805 is the area code. I would go up to that northern California area, and I knew that was the only place I could get 805 at that time. I told the owner I knew about 805 before it was a mainstream beer, and it turned into a closer relationship to become a part of the brand as an athlete. It has grown a lot. But it is cool to look back, being able to go to the brewery up north and getting that beer because it was such a secluded beer you could only get there."