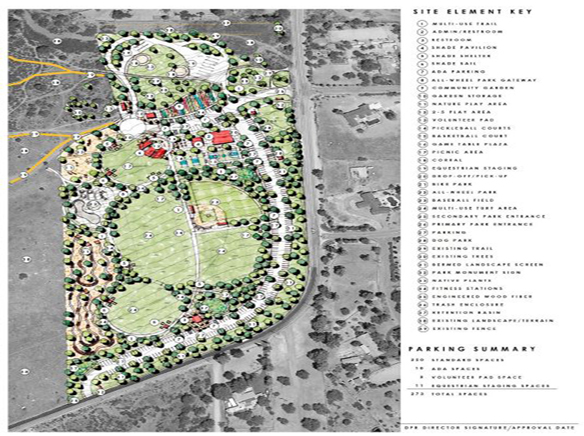 The Alpine Park public review for Recirculated Draft Environmental Impact Report is now open. All comments on the Draft EIR must be received by the County no later than Feb. 14, 2023, by 5 p.m.
In September 2021 County Parks and Recreation prepared the Draft EIR for the Alpine Park Project to analyze potential significant impacts from construction and operation of the proposed park. The Recirculated Sections include changes to Section 4.4, Biological Resources; Section 4.9, Hazards and Hazardous Materials; Section 4.20, Wildfire; Chapter 6, Alternatives; and associated technical appendices. Section 4.4, Biological Resources and the appendices are not provided in strikeout/underline because they are new or have been replaced in their entirety.
The proposed project would involve the development of an approximately 25-acre active park that would include potential multi-use turf areas, baseball field, all-wheel area, bike skills area, recreational courts, fitness stations, leash-free dog area, restroom facilities, administrative facility/ranger station, equestrian staging with corral, nature play area, community garden, volunteer pad, picnic areas with shade structures, picnic tables, game table plaza, and trails. The remaining approximately 70 acres would be open space/preserve that would allow for restoration/habitat enhancement.
To view the Draft EIR online, visit https://bit.ly/3FIWUKP.
Documents are also available for review between 8 a.m. and 5 p.m., Monday through Friday, at County of San Diego Department of Parks and Recreation headquarters, located at 5500 Overland Avenue, Suite 410, San Diego, CA 92123 – and between 10 a.m. and 4 p.m., Monday through Friday, at Alpine Branch Library located at 1752 Alpine Boulevard, Alpine, CA 91901.
Direct any comments to Anna Prowant at (619) 756-4548 or CountyParksCEQA@sdcounty.ca.gov