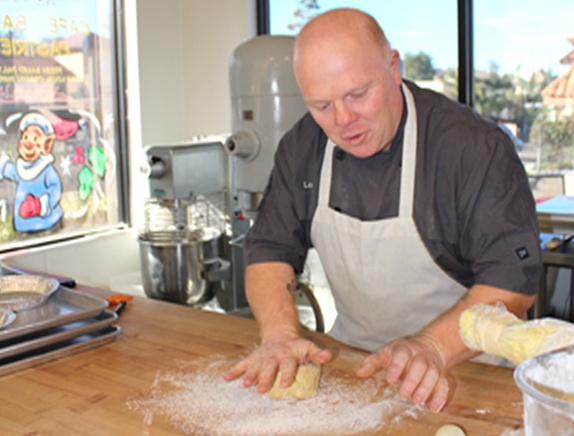 The line at Crobean bakery stretches from the sales counter to the shop door. Grainy loaves of bread stand guard in the pas­try case nearest the door, visu­ally informing customers from the moment they enter that Loic Laffargue and Heather Al­len have created a traditional French bakery.
The name itself is a shared title: cro for the croissants that are large enough to use for sand­wiches and bean for the hot coffee that Allen couples with house made caramel to sweeten the flavor of a fresh latte.
The couple opened their lo­cal shop at 2806 Alpine Blvd. on Nov. 25.
Daylight lends a clean warmth to the shop, stretch­ing in afternoon shadows on the counter of the large wooden island where Laffargue is roll­ing out dough for a batch of quiches. Knee-high bins of flour, sugar and chocolate are tucked under the counter for easy ac­cess while he works, but also so customers can take in the workspace. Laffargue says he likes that everyone can see the workspace, nothing hidden, and absorb the sights and scents of the bakery.
He rattles off the chemistry he employs, old-world magic in the form of leavening and proof­ing. It is orderly and established: he knows by heart how long to leave each type of dough rest­ing, when to freeze some loaves so he can delay their proofing, how the gluten free dough will behave (it won't) and when he needs to cut corn starch into flour to alter the texture of cake so he can properly roll it into a final product.
"I want to keep it simple and good, to be fresh every day.
That's what baking is supposed to be like: fresh and real. I would not let my clients eat something that I would not eat," Laffargue said.
Allen chimes in that in fact the only challenge the bakery has seen is with sourcing some ingredients they've had trouble getting delivered to Alpine. Laf­fargue grabs for a bowl of rough brown flour as an example; he scoops up a handful and lets it run through his fingers to il­lustrate the texture of the high-quality wheat. The baker lets the heft of the grain reveal its personality then explains that they are not willing to compro­mise on ingredients because the final product would not be the same, so they ship in some of their flour from as far away as Ohio.
Allen, who trained as a nu­tritionist, points out that their products are all natural shades and seasonal flavors. Laffargue begins baking just after mid­night each day so the pastry cases are freshly stocked each morning with flaky croissants, fresh tarts, cookies, scones and assorted pastries; the counter holds baskets of fresh baguettes and a glass platter with fresh apple cake for sale by the slice.
Laffargue says that the bak­ery is a little bit old-fashioned and wholly French, yet deliberately portioned for an American palate. The croissants are large enough for sandwiches, the croque monsieurs can be split in half and the baguettes are long enough for a family to serve with dinner.
Laffargue says he does not want to copy what already ex­ists and there are already bulk boxes of neon cupcakes avail­able at the grocery story up the street.
The baker claims to be shy but once he starts to speak he quickly gives himself over to the story behind the shop. He left home at 15, learned how to cook and bake while fending for himself to finish grade school, then joined the French army and served as a paratrooper.
When his time in the service ended, he found his way back into baking, traveling all over and absorbing new skills in dif­ferent regional kitchens. He has four American Culinary Federa­tion medals framed on a wall be­neath a photo of his mentor.
Allen says the shop is a dream come true after years spent in the corporate world. She says that Laffargue looked at her one day and asked: 'If I bake, would you sell?' and she immediately said yes.
The couple initially sold the baked goods at local farm­ers markets. Allen says it was a competitive and exhausting experience, however they also built up a loyal clientele.
"The shop was just packed the other day but I heard the door open and looked up to see some of our old regular custom­ers coming through the door. I asked what they were doing here and they said they'd come by in case we weren't getting enough business because they were worried about us," Allen said.
She says that moment brought tears to her eyes and she is so grateful for how the shop is working out.
"Part of the reason I don't see any hurdles is that I'm so grateful. We have a roof over our heads, we live two minutes away and we get to be with each other," Allen said.