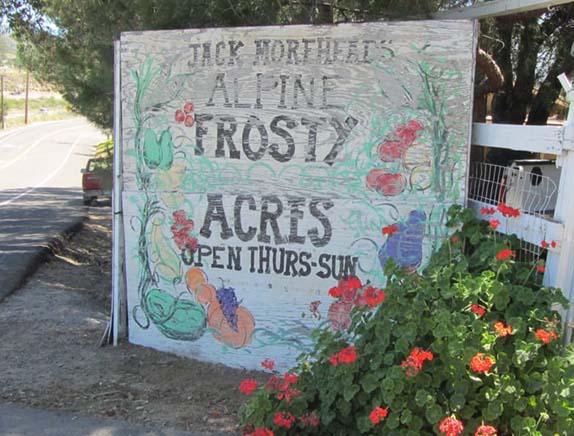 Former Frosty Acres produce stand owner Jack Morehead recently sold the family business to new owners and is headed for retirement. According to Morehead, it is not uncommon to see customers who are passing through town with their children mention that they have been going to the stand since they were kids themselves.
He said he held out while fruit and produce stands closed all over San Diego and says that the change in where people shop for produce is a sign of changing times.
"When I came to San Diego there were fruit stands on every corner, always somebody selling strawberries or avocados, there were so many tomatoes down in Chula Vista and all the big stores and the health department put them out… With school schedules and parents driving all over for sports, customers find it easier to stop at a supermarket and buy meat and strawberries in one place. All the supermarkets have their own warehouse and the little ones like me are going away," Morehead said.
In actuality, the stand that Morehead refers to is a full farm where he and his wife Carrie have invested decades of work and turned a patch of dirt into a business.
"I bought the property in 1986 and worked for ten years just to get it up and running. There was nothing but a house and a lot of work. I put in three wells, lots of horse manure that I let decompose into good mulch for the garden. I did have another farm stand in San Diego at the time; originally, I had The Produce Barn in El Cajon. From there, I went on to Chula Vista as well as Carlsbad with strawberries, oranges, avocados, everything… the farm now has over 85 fruit trees in it; I planted them all as well as all the shade trees and all the pine trees," Morehead said.
When asked what prompted him to establish the farm and produce stand, Morehead says that farming is in his blood and crosses over generations. His father started growing food towards the end of the depression and passed the skill set on to him and his son, Jack Junior, now runs an upscale fruit store in Grapevine, Texas.
He says that he has always made it his practice to buy produce in person, explaining that buying by phone means that anyone can sell you whatever they want. Morehead prefers to get out into the field, dig into the ground a bit, check out the crops in person. Although it takes him time to do things this way, he believes that he knows all the best places to buy produce. Morehead hasn't had a job working for anybody else since he was 18 years old and he has made a living out of his work as a farmer and accompanying business endeavors.
"We've done everything over the years: fruits, vegetables, a pumpkin patch with hayrides and a petting zoo, we've had field trips of kids coming through from all the schools, then pine and Christmas trees," Morehead said.
He says that he is prepared for retirement with plans to spend half the year in Yuma, Arizona and the other half in Hawaii.
"We worked so hard to build this up and we're so proud of our customers but when you're 75 you need to look at what you're going to do next," Morehead said.
The time has come to hand off the business to new owners and he has spent the past few months easing the business through the transition.
Although he does not have an exact date to speak of, Morehead anticipates that the produce stand will reopen in May, 2020 to a new crop of customers.