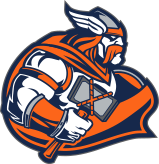 Former Granite Hills High School Assistant Principal Bri­anne Froumis has been appoint­ed principal of Valhalla High School, filling the position left open when Mary Beth Kastan, who served as Valhalla's princi­pal for 13 years was promoted to assistant superintendent of Edu­cational Services for the Gross­mont Union High School district.
Froumis is a Grossmont High School graduate who taught So­cial Science at both Grossmont High School and San Marcos High School. She served as an assistant principal at both the middle school and high school level for six years in the Poway Unified School District before returning to the Grossmont dis­trict as an assistant principal at Granite Hills High School for the 2019-2020 school year.
"Brianne Froumis's deep care for the students and community we serve comes through every time you speak with her, and her impressive track record of success demonstrates that she's an innovative and highly-skilled leader," Grossmont Superinten­dent Theresa Kemper said.
Froumis will step into her new role as Principal at Valhalla on May 3.