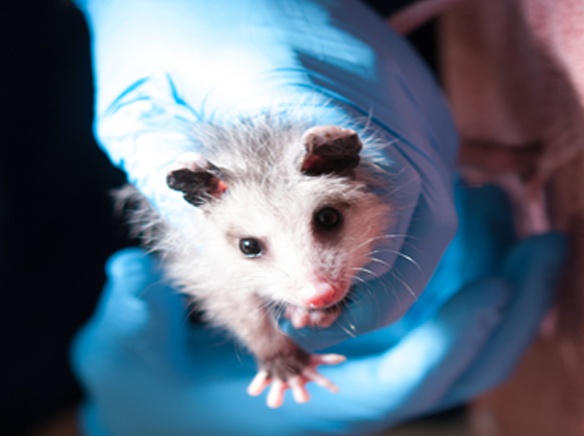 The San Diego County Humane Society is gathering donations and financial contributions for their 11th Annual Project Wildlife Baby Shower through a virtual format this year.
The society has set up two baby animal registries on its website, one through Target and one through Amazon, where donors can browse through wish lists of items needed to help the thou­sands of young animals that will turn up at facilities as spring be­gin in San Diego.
Financial contributions can also be made through the site.
San Diego Humane Soci­ety President and CEO Gary Weitzman said whether or not there is a pandemic, springtime brings babies.
"While our baby shower is a virtual event for everyone's safe­ty this year, we need the com­munity's support just as much so we can care for the thousands of orphaned and injured baby wild­life who will undoubtedly come through our doors this spring," Weitzman said.
Humane Society Ramona Wild­life Center Campus Director An­dy Blue said the society maintains two wildlife treatment facilities in addition to regular animal shel­ters: the Pilar and Chuck Bahde Wildlife Center in San Diego and the Ramona Wildlife Center, where thousands of injured, or­phaned and sick wild animals are given a second chance at life.
Blue said the rural Ramona out­post, unlike the society's smaller facilities including shelters in El Cajon and San Diego, can accom­modate very large animals includ­ing mountain lions and is one of only two licensed bear rehabilita­tion centers in all of California.
With volunteers that work from San Ysidro to Temecula in River­side county, Blue said they get up to 12,000 animals in San Diego each year and about 800 larger animals at the Ramona campus.
The majority of the animals they take in through Project Wildlife are fledgling birds who weren't ready to be out of their nest, usually disturbed by un­timely tree-trimming, who stand a pretty good chance of surviving in the wild, Blue said.
"We've worked with songbirds, raptors, raccoons, skunks, and I want to say a bobcat at the San Diego facility. We get hawks, fal­cons, owls year-round that are hit by cars," Blue said.
They also receive beach ani­mals who got tangled in fishing lines who are "really important to the ecosystem" as are all the animals who come through their doors.
"This is one of the most diverse areas in the United States and one thing that really struck me after working with Project Wildlife is the efforts we put into an animal. I cannot tell you the resources that go into an animal recovering and being released," Blue said.
Bottles, bags of birdseed, do­nated baby food and other items in the baby shower registry will go toward the thousands of young animals that will pass through Humane Society facilities in com­ing months, including wildlings like hawks and owls who feed on other animals that might be inva­sive or damaging to residential areas.
"Part of our education is ways and resources on our website for coping with animals, things like how to live with coyotes in the area," Blue said.
The society is hosting a Face­book Live event on Feb. 5: What To do When You Find Baby Wild­life; they are also hosting a Wake Up With Wildlife event through Zoom and Facebook live on Feb. 6.
Visit www.sdhumane.org/reg­istry to find educational events re­lated to San Diego county wildlife or to make a donation to Project Wildlife.