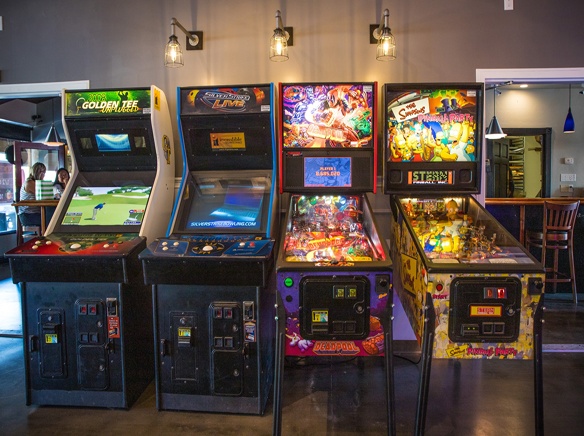 When the Croce family was told unincorporated San Diego county prohibits arcade games for children in the same dining room where alcohol is served to adults, they set out to change the law.
Over a decade earlier, the Croces had established Mediterraneo as a higher end restaurant in Alpine. However, the bar used to service the restaurant from an adjacent storefront was dark, owner Gian Paolo Croce said and didn't have the same welcoming atmosphere as the bistro.
The family lightened up the decor in 2020 and added arcade games for children to transform the bar into a family-style sports lounge.
"We saw families having lunch, children playing and it worked. Honestly, it was like a dream come true," Croce said.
The only problem: the new setup wasn't legal.
About six months after opening the newly redone sports lounge, the Croce family was told they'd need to apply for an amusement license to equip the space with arcade games.
"I went to the county to apply for the amusement license and they said we were not able to have that license because we're in unincorporated San Diego and it operates differently than incorporated San Diego county. Basically, if we had games, we could not have minors but that is exactly what we wanted: to have minors in a casual place where the whole family could hang out together," Croce said.
Researching a bit, Croce discovered that Chuck E. Cheese and Dave & Busters both had the amusement licenses the family needed, but a similar license could not be obtained in unincorporated San Diego county, including Alpine. After Croce found out there was a difference between what business owners in unincorporated and incorporated communities could apply for, someone suggested he ask the Board of Supervisors for help changing the law.
"So, I wrote them a letter and I wasn't even expecting a response. I got one within a couple of weeks, they were empathetic and open to discussing the situation. We got on the phone and it was time consuming because there were gaps so they could connect the dots. They'd call back then I'd call back… it took about a year and a half but amazingly, it happened," Croce said.
Back on April 26, the County Board of Supervisors unanimously approved a plan to repeal the 'amusement devices' ordinance. They asked county staff to return with a plan within 90 days which would allow businesses in unincorporated communities to operate amusement devices while remaining subject to California state licensing in order to serve alcohol.
"As businesses continue to recover from the impacts of the pandemic, we as policymakers, have a responsibility to continue to remove barriers so that everyone can reach an equitable recovery," District 1 Supervisor Nora Vargas said at the April 26 county board of supervisors' meeting. Then, on Aug. 17, the law changed.
"The county has changed the code of regulatory ordinances so the sheriff 's department won't issue licenses and charge fees for businesses to open a business with video games and pinball machines or amusement devices. The old law also said games had to be placed in areas where alcohol was prohibited— that is also repealed. However, businesses still must get a state license to serve alcohol and they still must follow state laws about the sale of alcohol to minors and overserving," Public Safety Group Communications Officer Chuck Westerheide said.
The change was recommended, he said, to create more opportunities for entrepreneurs and small business owners in the county's unincorporated areas and the change provides businesses in unincorporated areas the same business opportunities available to those living in the incorporated areas.
"This ordinance repeal is one positive step towards giving every opportunity to small business owners in the unincorporated area," District 2 Supervisor Joel Anderson, who represents Alpine and neighboring East county communities, said.
Croce publicly thanked the board of supervisors at their April 26 meeting and said it was an amazing experience to be heard.
"We're from Sicily but we came through New York and used to go to game rooms over there, just like this, family all together. There was a risk we could have lost that game room but at the end of the day it's fantastic to see the system work," Croce said.