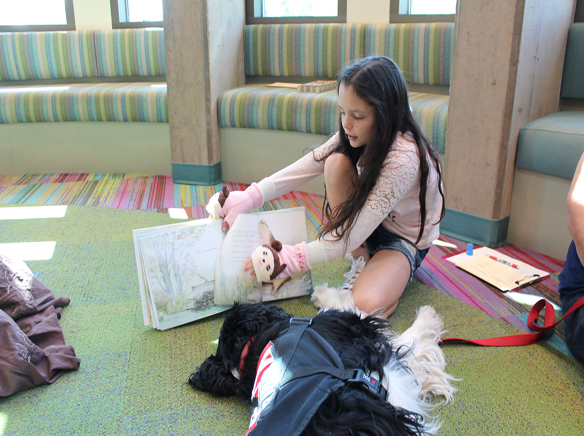 Those of us who devour paperbacks like they're weekend brunch know the satisfying crack of opening a new book. From the time we begin reading texts with a spine wide enough to crack, sometime in elementary school, a scolding teacher or school librarian tells us the delicious crack is wrong, terrible for the book. We do it anyway — crack— releasing the promise of a new adventure into the dark hours before bed, losing ourselves to another world during the ridiculous wait at the doctor's office, sinking into the welcoming sand at the beach on a much-needed vacation and savoring our time on the plane flight home. Sure, we're curious about the story but there is optimism in opening a new book itself. The magic lies not in knowing bullet points of the plot from a back cover synopsis but in knowing we have an entirely new book to read, details yet to be discovered.
If cracking open a fresh book is a New Year's celebration, a sudden burst of glittering energy at midnight, then a library is perpetually 11:59 p.m. with anticipatory joy at all the possibilities a year can contain. According to Library Journal, most libraries are facing three trends that will shape their functionality in years to come. However, the leap from changing a library to changing a life is a rather short hop.
The first trend, a shift toward digital services, implies a need for mobility and agility, being able to reinvent the familiar so it is more easily utilized. Where a library might digitize specific collections, the new year might serve as an impetus for any one person to begin saving their documents digitally, back up their entire photo collection to that invisible cloud or generally shift toward a less cluttered life. There is a choice to be made in there, but the decision is somewhat forced by the rest of the world demanding we keep up with changing times. The same patron who stops to admire a 1923 photo also expects fast book delivery in 2023 and if they cannot quickly reserve a book through their library's website, they will order it online.
The second trend suggests library staff has had to become more efficient with a budget since the start of the pandemic. With some of the fastest growing home prices in the nation, gas prices that broke county records in 2022 and, according to the U.S. Bureau of Labor Statistics, more spent in California on both insurance and entertainment than the national average, there is little doubt residents are stretching their budget with no guarantee pre-pandemic pricing will ever return. If library staff are pinching pennies then people are looking for pennies to pinch with many coming up shorter and shorter each month. Good thing a library card is free.
The third trend indicates libraries are increasingly challenged to illustrate their value. This is, perhaps, the most human challenge of all: to look back at what you have done, look ahead to what you might be able to accomplish and set out making a must-do list to increase one's value. A person's list might include 'lose weight, quit smoking, go back school' but decoding the list leads to 'be more agile, make wiser financial choices, increase value'. It can be hard to stick to it past January 16 when it would be far easier to gently close the door and tell the world you are unavailable. However, there are shelves full of novels, new and old, waiting for someone to pull them from curated shelves at the local library, along with freshly printed flyers featuring computer training, tutoring, kids' activities and teen book clubs. It is a new year.
Crack the book.
The Alpine library hosts family story time every Wednesday from 10:30 to 11:30 a.m.
A free baby story time is also offered at the Alpine library every Friday at 10:30 a.m.
Paws for Reading: kids can read aloud to Charlie, a certified therapy dog on Jan. 17 from 4 to 5 p.m. Sign up for a 10-minute session at the Alpine Library front desk up to 15 minutes early. Space is limited.
The Japanese form of storybox theatre, Kamishibai returns to the Alpine library at 10:30 a.m. on Jan. 26.
Join in Crafters' Paradise Wednesdays from 1:30 to 3:30 p.m. Bring your own portable project or learn how to crochet or knit with yarn provided for free.
Robin Parks is teaching about mountain lion biology, behavior, safety tips, myths and misinformation, and how to protect pets and livestock in a free presentation from the Mountain Lion Foundation on Jan. 20 from 1 to 2:30 p.m. Not suitable for children under twelve due to graphic information.
Calling all young bug lovers and future entomologists— learn all there is to know about Madagascar Hissing Cockroaches from local enthusiast Kim Ruby on Jan. 31 from 4 to 5 p.m. at the Alpine library. These creepy crawlies can make great pets and lucky kids may get to hold one.
Kingdom Quilters will be meeting from 10:30 a.m. to 3:30 p.m. on Jan. 12, and from 3 to 4 p.m. on Jan 21 in the Alpine library for a regular Sit & Sew quilting session to benefit children in need with the comfort of a handmade quilt. No supplies or experience necessary.
The Campo-Morena Village library holds pre-school story time every Friday from 10:30 to 11:15 a.m. Best for little ones under two years of age.
Older children are invited to the Take 'n Make craft sessions held every Friday from 11 a.m. to 4:30 p.m. at the Campo- Morena Village library. Craft kits are available to pick up and take home as well.
Itching for an adventure? Join the Dungeons & Dragons group which meets Tuesdays from 5 to 6:30 p.m. at the Campo- Morena Village library.
Come learn the basics of using a desktop computer, laptop or handheld electronic devices. Receive your own Google Chrome Book and MiFi devices to take home for a year while supplies last with a county library card at the Campo-Morena Village library every Thursday from 10 a.m. to 5 p.m.
Join in the monthly book club discussion at the Campo- Morena Village library from 12 to 1 p.m. on Jan. 10.
Stop by the Descanso library every Friday from 10 a.m. to 12 p.m. for tech help with basic computer and smartphone questions and receive one-on-one help.
Join an adult painting class, instructor-led with all supplies provided on Jan. 7 from 10 to 11 a.m. at the Pine Valley library. Registration required, call (619) 473-8022 to reserve a spot in class.
The Pine Valley Book Club meets every third Tuesday at p.m. This month, join in from 8 to 9 a.m. to discuss 'The Sanatorium'.
The Pine Valley library offers preschool story time every Thursday from 10:30 to 11:30 a.m. Young children are welcome to enjoy stories, songs, and movement activities followed by a to-go craft.
You can email Jessica at: jessica@ integritynews.us with comments and suggestions.