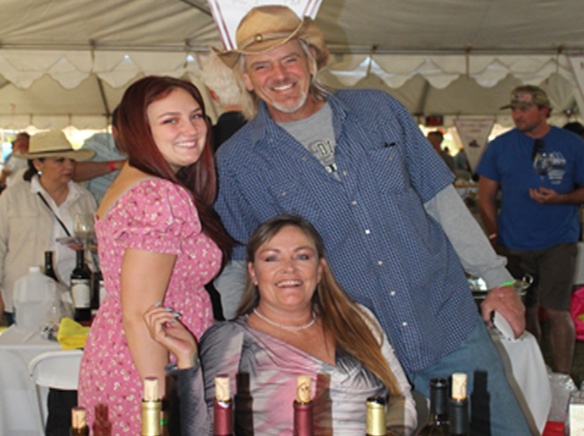 Kiwanis of Alpine held their 30th annual Vintage Alpine fundraiser at Summers Past Farms on Nov. 21, six months after its usual month of May celebration and well over a year since the last time it was held in 2019.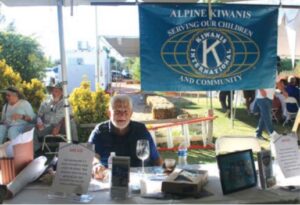 A quick glance around the venue revealed the event was structured just as had it been held pre-pandemic.
Tucked under the shade of a large canopy with the rolling gardens of Summers Past Farms as a natural setting, a silent auction was set up to the left of the entrance, vendors lined the bulk of the space and open seating tables were positioned to the rear of the event so attendees could sit and talk over a glass of wine or cold beer while live music played in the background.
Nearest the band, the silent auction stretched out over the length of three tables that included gift baskets, homemade quilts, and home decor items that all represented Alpine in some capacity.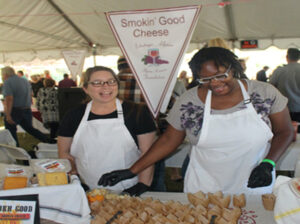 Kiwanian Richard Higgins, who chaired the event, said there were more than 40 vendors at the gathering, 25 of which were from local wineries.
Higgins said it was good to finally hold the event this year as it was canceled for 2020 and postponed from May to November for 2021, but that having it in the fall posed extra challenges for winemakers as they are in the middle of bottling season and could not all spare time away from their vineyards for the fundraiser.
Still, the vendors who did make it to the event were all smiles and appeared eager to greet new and returning patrons.
Alpine Social restaurant owners Ronnie and Lauren Boyer manned one of the first tables encountered upon entry, just as their cafe is one of the first shops on the boulevard as visitors enter Alpine. The restaurateurs, who had the dubious honor of opening their shop right as the COVID-19 pandemic hit town, smiled and proudly said they are seeing success and were happy to participate in Vintage Alpine.
Anchoring one side of the large tent, homesteader Richard Edwords engaged attendees with a game of skill. Anyone stopping by the table was given a sample of his honey, along with an opportunity to try their hand at stacking as many honey jar lids as possible without letting them tumble down. The game, ideal for anyone who had already indulged in a glass or two of wine, captivated several participants but ultimately it was Jen Dusenberry who won a free jar of honey for precariously stacking well over 30 lids.
"It is so exciting to gather and see all these smiling faces!"- Stephanie Kahle said, standing behind a table laid out with samples from her family's Woof 'n Rose winery in the next aisle of vendors.
Pearson Brothers Honey Wine owner Dale Pearson exchanged a bottle of wine with Stephanie's husband, Ehren Kahle while also pausing for a quick conversation on how the year has been.
"I'm pouring and staying alive," Pearson said with a smile.
Barons Market Manager Merlyn Abrams handed out samples of dessert brookies which, prepandemic, were a staple of the local grocery store.
"It's going really well— we haven't done this for two years. I'm a bit nervous but it is such a good turnout. It is good to see all my customers, and so good to have that small town feeling again," Abrams said.
Turning right, attendees could taste glasses of Deerhorn Valley Vineyards' award-winning wines poured by owner Robert Collis that he handed out along with olive oil samples. To the left, Alpine Taco Shop owner Claudia Sanchez scooped up samples of Mexican food while greeting familiar faces.
"It's nice to see people decompressing and having a good time. As a Kiwanian, I'm proud to see this going on for a good cause," Sanchez said.
Vintage Alpine is one of the few Kiwanis events that is not direct ed toward a specific goal; proceeds go toward the service account that supports children's activities and events throughout the year in Alpine, such as Boy Scouts, Alpine Little League, Red Shoe Day and Joan MacQueen Middle School Builders Club.
"Most everything is donated and almost everyone is a volunteer," Higgins said.
This year, he said, he expected the event to bring in between $20,000 to 30,000 after final tallies of the silent auction items.
Kiwanis plans to hold the next Vintage Alpine May 1, 2022.