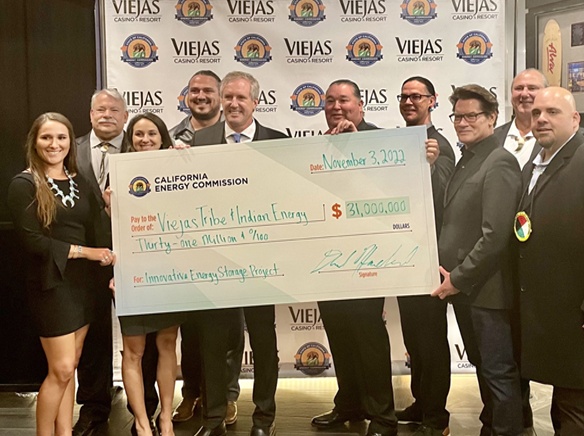 The Viejas Tribe of Kumeyaay Indians received a $31 million grant from the California Energy Commission to deploy a cutting-edge, long duration energy storage system that will provide renewable backup for the Viejas tribe and support statewide grid reliability in the event of an emergency. The project, funded by one of the largest state grants awarded to benefit a tribal government, will demonstrate the performance and potential of long-duration energy storage systems as California works to achieve 100% clean electricity.
The 60-megawatt-hour long duration system is one of the first of its kind in the country. The project will provide renewable backup power to the Viejas community in the event of local outages and provide the opportunity for the tribe to shift electricity use away from the statewide electrical grid during calls for conservation. The CEC awarded the grant to Indian Energy LLC, a privately held Native American-owned microgrid developer who will build the project on the tribe's behalf.
This is the first award under the state's new $140 million Long-Duration Energy Storage Program. The program is part of Gov. Gavin Newsom's historic $54 billion commitment to fight climate change and implement world-leading measures that will cut pollution, deploy clean energy and new technologies and protect public health.
CEC Chair David Hochschild said as remarkable as the day was, he wanted to say a few words about the past.
"There is a tragic history in California and across the country with what happened to the Native American community," he said. "It is a history of land being stolen, language being stolen, lives being taken, and we have to face that honestly because we cannot fill the needs of the future without understanding the past."
Hochschild said he is proud of Newsom's apology to the tribes, which he did in his first year in office, calling it historic, and a model for the country.
"Many of our problems today are rooted in our departure from that basic Viejas wisdom and Native American wisdom of always asking with every big decision, how will it affect the seventh generation," he said, adding "what is being done now is heeding that wisdom and healing some of the past."
Hochschild said he is proud that the first large-scale long duration project is with the Viejas tribe.
"I believe this is part of the sequence we need to do to build a clean energy future," he said. "There is a lot of momentum on our side. We are getting almost two-thirds of our electricity today from renewable energy. Fossil fuels on the grid are now the alternative energy. This is consequential. I believe it solves many problems at once. Energy independence, energy for the Tribe, great resilience for the state, job opportunities, investments in the innovation economy. Added together, that is really monumental…I think people are looking for hope, looking for meaning, they are looking for inspiration, and a project like this represents all those."
Viejas Tribe of Kumeyaay Indian Chairman John Christman  said when they first considered this project, it came from the voting population of the Council, as they were asking when the Tribe was "going green."
"Ironically enough it was like the stars were aligned," he said. "The first presentation was with Indian Energy…The Council was all onboard. All of us were looking towards the future. In our case, we all live, work here. We have generations in this valley that go back thousands of years…We have to be stewards of our own land, of our own environment. As we look at this, we have to look on to afterward, as my grandfather would say, 'pushing up daisies,' that the next generation to be able to follow this and keep it going forward with renewable energy, with keeping our environment intact as best as we can…It is an exciting adventure for us to move forward with this, and you can see with the size of this project, I am actually surprised that there is not one on Indian country."
Indian Energy Vice-president of Development Nicole Reiter, along with her brother and sister, said they are proud members of the Sault Tribe of Chippewa Indians.
"We are family members and owners of Indian Energy," she said. "At Indian Energy our vision is to give back. To support our communities, our people, our planet, by doing our part to create a sustainable future. This long-duration energy project is so much more than a microgrid. And it is so much bigger than all of us. This day, this project, is about the CEC's commitment to leading the country and creating a sustainable future for California."
Reiter said it is about Viejas, about not only what today brings, but what tomorrow brings.
"The possibilities for energy sovereignty, for developing a tribal workforce, creating meaningful sustainable jobs that benefit Native Americans, and sets the stage for tribes everywhere to embark on their own journey. In our world today we burn fossil fuels for our energy which has enormous implications on our climate, our health, and our wellbeing. We are changing that today."