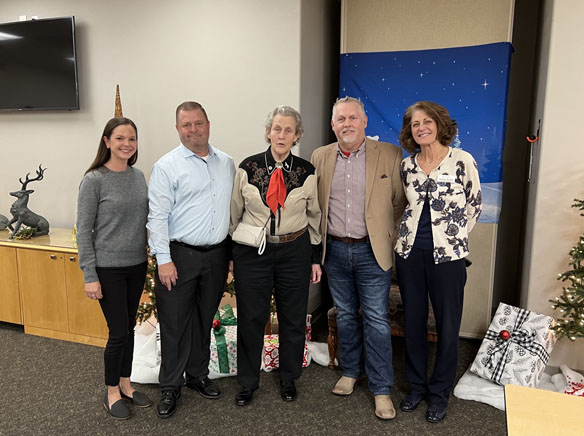 Home of Guiding Hands received a holiday treat with a visit from former HGH CEO Mark Klaus, who brought author and motivational speaker Dr. Temple Grandin to speak to the organization's front line workers and clients. Klaus is currently the executive director for the San Diego Regional Center, so it was a bit of a homecoming for him also, said HGH Vice President of Operations Falon Leszcynski.
Grandin authored "Emergence: Labeled Autistic," which gave an inside narrative by someone diagnosed with autism. Now, a prominent author with several books Grandin is a professor of Animal Science at Colorado State University. She writes and speaks on both autism and animal behavior and is a successful consultant on livestock handling equipment design and animal welfare.
Leszcynski said Grandin is an author and an activist and highly reputable in the industry.
"Many of our staff were very excited to just be in her presence, to hear her speak," she said. "She did a little impromptu Q&A session, allowing staff to ask questions, and much what was talked about is what she is seeing in the industry right now, what motivates and drives her. She allowed staff to take pictures. She signed her book for many of them. She is very influential in our industry."
Leszcynski said with the dual visit of Grandin and Klaus being at HGH that there was a "lot of sentiment going on," and that Grandin provided a lot of encouragement to the team.
Klaus said HGH has been a regional partner with SDRC for many years.
"I think it was a really great opportunity," he said. "I thought it would be good for her to talk with some local providers. Grandin was aware, and is a big advocate for early start services, birth to 3-year-old children, and wanted to go to a provider that provided early start which HGH does. I thought it was a good opportunity to meet her and see her. I think it went exceptionally well."
Klaus said Grandin is the most famous person with autism in the world.
"It was really nice to be back at HGH," he said. "I have not been back to the offices in over a year to see some familiar faces. And, to see the wonderful work that they are still doing.
Home of Guiding Hands is one of the largest providers with a spectrum of individualized services supporting persons with special needs in San Diego and Imperial counties.