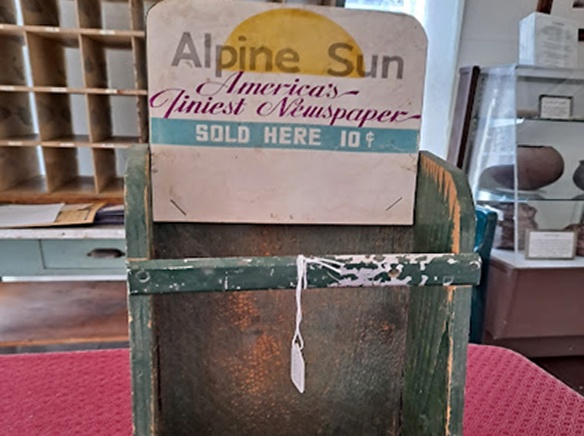 With the pandemic shutting down the Alpine Historical Society and now only available to the public for a few hours a month, Society members have made effective use of this time in reorganizing its contents and data bases, looking towards a full reopening.
The goal of the Society is to develop a Heritage Park for Alpine which includes three historic buildings. The Dr. Sophronia Nichols House built in 1896, the Dr. Nichol's Carriage House and the Adam and Caroline Beaty House, build in 1899. The John DeWitt Museum is in the Dr. Nichols House and the houses are open the last Saturday and Sunday each month between 2-4 p.m., and by appointment. Alpine Historical Society President Tom Myers said one of the projects in process now is the archiving of documents concerning Wright's Field and the Back Country Land Trust.
"When a developer was going to put a golf course and a housing development on Wright's Field, 20 to 30 years ago, Yolaine Stout and her husband Dave, who is now deceased, lived in Alpine adjacent to Wright's Field, and they were part of the group that spearheaded the effort to block the development. They may have also been members of the Back Country Land Trust, when it was founded in 1991," said Myers.
Myers said in the process of filing lawsuits, doing environmental studies, and cultural studies on the site, they accumulated a lot information and kept it in their home after all the lawsuits were settled. About two years ago, Yolaine Stout donated all that material to the historical society.
"There are about 20 boxes of paper material," he said. "In that, I believe there are some duplicates and information that may not be pertinent to what the environmental and cultural aspects of the site. So, we have obtained a subject matter consultant to help us with that and go through those boxes and files, and review what is in them, and what is important. Some of that may be in particularly important for the Preserve Alpine's Heritage group that is in opposition to the current plans for the Alpine County Park. They may be interested in some of the information that we dig out of those boxes."
Myers said they are also going through the attic at the DeWitt house, with an archive team working together once a week, as it has many items and artifacts given to the Society over the years.
"Not all of them have been cataloged and numbered, so we are going through and checking those items, against our donation records and updating our records," he said. "We have a museum management program Past Perfect, quite popular among most museums. We are documenting the information and uploading it through that program, so we will be able to identify the item, its description, and its location on the shelf."
Myers said it has a camera collection given to the Society from the Fred Bray collection who passed away several years ago, with his estate executor donating cameras that date back to the late 1800s.
"Some of those are typical of what might have been used for early photos in Alpine," he said. "We did an exhibit on the cameras a few years ago and it was well received. We are also finding portraits and paintings done by Alpine residents and others that have more local interest. And there is a lot of stuff, just like your grandma's attic. We have not done an art exhibit, but we are looking ahead for something like that with what we are finding."
While closed for the pandemic, the Society put a new exhibit in one of its galleries, "Women of Alpine" about significant women and their contributions to the growth and development of Alpine. beginning as early as 1860 up to 2000. "I think it is very interesting, he said.
Myers said it is currently working on a large process of archiving editions of The Alpine Sun newspapers. He said the goal is to place them on its website, so they are available for the public.
"We already have newspapers on our website from 1952, from the first edition all the way to 1970. Those were the little ones, 8" x 7" folded in half and they were small papers, but Clark Irvine packed them full of stuff," he said. "We had hoped to get an intern from SDSU to help us with the scanning of the current batch. We are working on 1971 to 1975, but the intern we were talking to was unavailable to do it this year. So, we obtained Denise Horan from Alpine who we know has a lot of experiencing in scanning and she has been working at the John DeWitt Historic Museum and Library, using office equipment, scanning all those newspapers. It is a challenging job and takes a lot of attention to detail. She is doing a terrific job."
The Alpine Historical Society is a completely volunteer organization with around 90 members, and it is looking for volunteers that are computer literate, maintaining database, people able to work on website projects, and to expand its hours it needs more volunteer docents.
For more information about the Alpine Historical Society, visit www.alpinhistory.org.