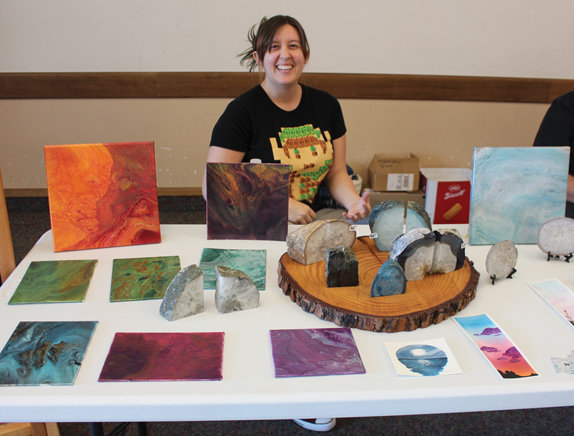 The first ever Alpine Art & Music Festival was hosted by the Alpine/Mountain Empire Chamber of Commerce and held April 13 at the Alpine Community Center.
"I just want to thank all of the community partners who came out today to support this event. We couldn't have done it without them. This includes people like Boulder Oaks, Quest Church, Alpine Beer Company— everything they did to provide ambiance and activate the space has been very helpful. I also want to thank all of the artists from ages 8 to 98 who came out to display their work today; the vendors who have their crafts for sale; and, I definitely want to thank all the volunteers be­cause I couldn't do it without them," said Alex Ward, Execu­tive Director for the Chamber of Commerce.
The anteroom walls of the community center were lined with artwork by local school­children and led into the main gallery where professional artists displayed their work. Tables were laden with orga­nized canvases coated in acryl­ic paintings by Katie Bledsoe, landscapes from Elle Arnot and geologically-inspired pieces by Mountain Empire High School art teacher Emily Wadham, as well as a small jewelry display and multiple works by other art­ists.
Near the art display was a ta­ble full of books by local writers, manned by Catherine Hand and Marla L. Anderson of the Alpine Writers' Guild.
"We listen, we help each other to edit, we make suggestions to make the story flow," Hand said.
Across the room, Wadham took on the role of teacher in a room full of creative artists and explained her unusual approach to painting.
"These are done with a tech­nique called paint pouring. You take acrylic paint and mix it with a special medium… you mix up your colors and… it runs onto the canvas and it ultimately cre­ates these ridiculously awesome designs… They're uniquely different each time," said Wadham.
In the adjoining room, long­standing local artist Phebe Burnham, 98, sat and handed out postcards of her work and smiled while explaining that the painting featuring familiar skulls grinning at a Dia de los Muertos celebration is titled "Real Artists Paint Forever,". Burnham then chuckled before mentioning that she recently had her driver's license renewed for five more years, then contin­ued to discuss her artwork and future plans.
"My style is pretty represen­tational. The small one over there is of Tammy who runs the Junction restaurant and her daughter. They're going to be opening up a shop next to the restaurant that will have ten of my paintings," Burnham said.
While Burnham was chatting about woven textile design from Oaxaca, Lori Bledsoe, member­ship and events director for the Chamber of Commerce discretely tucked a blue ribbon signifying "First Place winner" alongside Burnham's works.
Across the room from the established Burnham's works, eight-year old Naomi Tweed had her artwork laid out for display with a sign advertis­ing that "prints are available" prominently displayed among the work.
Nearby, newer artist Carmina Keifer talked about how she sees artwork as a source of personal expression.
"I turned to art as an acci­dent— I was in a paint and wine class and my artwork was terrible… as a mom of a child with autism, it became therapeutic and snowballed. Now that I've started selling my work, it has been so personally rewarding," said Keifer.
Outside, booths with handi­crafts lined the pathways with artistically arranged hanging Kokedama gardens, locally-made home and clothing alpaca wool creations, and gemstones that were given out to local chil­dren.