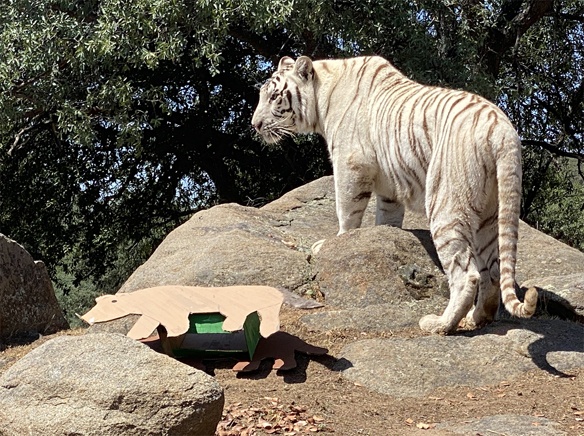 International Tiger Day—July 29— was originally established in 2010 at the St. Petersburg Tiger Summit when leaders from 13 countries where tigers naturally range came together and created a plan to double the number of wild tigers by 2022, deliberately choosing the Chi­nese Year of the Tiger as a tar­get point.
In Alpine, animal sanctuary and educational facility Lions, Tigers and Bears used the date to draw attention to tiger con­servation and raise public aware­ness of illegal animal traffick­ing and the need to protect the endangered big cats.
Lions, Tigers and Bears Founder and Director Bobbi Brink said the problem can be traced back to profiteers over­breeding the animals for cub petting or other pay-to-play activities, then discarding the animals once they are too old for profitability.
The United States Depart­ment of Agriculture has strict regulations surrounding cub handling: tiger cubs may not be used for photo opportunities or similar entertainment before they are eight weeks old be­cause their immune systems are still very vulnerable, however it is also illegal to have those same tigers come in contact with pay­ing customers past 12 weeks of age.
The 12-week mark cuts down potential for injury at the paws or claws of a wild animal but also renders those older cubs financially unprofitable, and sanctuaries like Lions, Tigers and Bears cannot take them all in.
"There's no federal tracking of exotic animals, especially the tigers. Breeders breed them for cub petting, they'll take your picture with that cute cub, and then they disappear. People need to understand not to do the photo ops, or the pay-to-play events," Brink said.
White tigers such as Crystal, a rescued big cat who now lives at the sanctuary are especially problematic, Brink said, often over bred and inbred so in addi­tion to being too old for profit­ability, many of the tigers also come with expensive medical upkeep.
"The only way to get that white tiger is to inbreed and it is usually father to daughter. They end up with metabolic bone disease, crooked spines— I've yet to see a white tiger who doesn't have a problem," Brink said.
Others, like Moka, were traf­ficked across the border. Al­though he was initially sent to the San Diego Zoo's Safari Park as a young cub, Moka was not conducive to the zoo's survival breeding program and ended up at the Alpine sanctuary to live out his life.
Ideally, Brink said, unneces­sary breeding needs to stop and conservation, "putting the animal back in the wild or keep­ing them safe," needs to be ad­dressed.
Hazy accreditation compli­cates the situation so everyday animal lovers might believe an organization supports conserva­tion efforts. For example, Brink said, the Association of Zoos and Aquariums and the Zoological Association of America aren't readily identified or differenti­ated by people who don't work in conservation.
In actuality, the AZA sup­ports mating and re-population efforts based on genetic diver­sity and an eye toward reintro­ducing endangered species back into the wild whereas the ZAA supports private and pub­lic breeding efforts for personal ownership. The ZAA approach effectively means there is a population of exotic animals, in­cluding big cats, that can never be reintroduced to the wild and are virtually meaningless for conservation.
There are only about 3,890 ti­gers left in the wild.
"Every animal has their own story. Some, we've been work­ing on for years to get them out of awful conditions. Others, we find out about or someone tells us, mostly by email and we'll try to get the animal out of the place but we can't take all of them," Brink said.
The ones they do take in get to live out their life at the no-kill, no-breed, no-contact Alpine sanctuary and enjoy days like International Tiger Day.
"A lot of our volunteers spent the last week making animal en­richment items to entice their interests, things that would make them want to play," Brink said, like collecting hair from the horses during grooming ses­sions then presenting it to the tigers in creative boxes where the smell would tantalize their sense of scent.
"They had a great time. They're funny, really," Brink said.
The celebration, viewed by about 60 visitors that morning, extended throughout the facili­ty. In fact, several of the animals have stories that overlap, like Nola, a tiger who was confiscat­ed from an unpermitted Louisi­ana operation along with several bears from nearby Alabama and North Carolina during the same rescue.
"Watching a bear touch grass for the first time, that's some­thing," Brink said.
Visit www.lionstigersand­bears.org for more information.