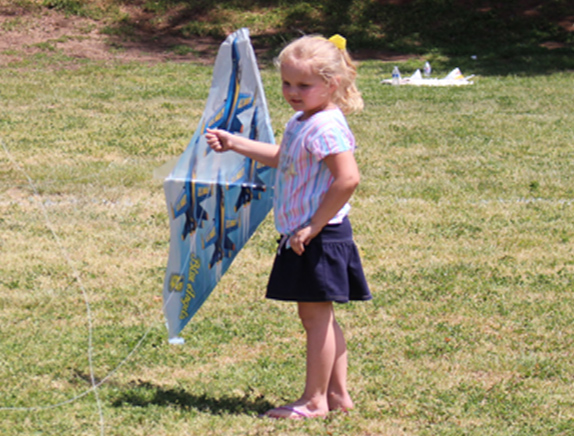 The Alpine Kiwanis club joined forces with Mother Nature herself on Sunday to provide a windy day of kite flying in the spring sunshine at Boulder Oaks Park. With April being National Kite month, the members of Kiwanis took it upon themselves to provide hundreds of kites for roughly 200 local children who showed up to learn the correct way to launch and keep a kite soaring high in the air.
"It is the perfect spring day for flying a kite, the perfect day for family and friends," said Kiwanis member Pam Price.
Key Club members from Granite Hills High School were also on hand to help out, passing out kites and helping the younger children with tips and tricks on how to best fly a kite.
"I thought it would be a nice day and a good way to get out of the house for my last spring break," said Michelle, 17.
In addition to Key Club and Kiwanis members helping the young children to get their kites up and sailing, siblings also helped each other while parents called out encouragement to the kids running across the field, kite tails trailing behind them.
"Its fun— I chose this kite because it has U.S. airplanes on it," said Dylan, 10.
Kara, 4 was flying the same kite across the field but bluntly said that she chose the blue kite printed with Blue Angels' F-18 planes because they didn't have any "girlier" kites available.
Brock, 11 talked about the difficulty of flying a kite: "I'm having fun, the best part is running and getting the kite up in the air.  That's really not too hard; keeping the kite up in the air?  That's hard," said Brock.
According to Kiwanis, this is an older event that was put on the back burner for a couple of years but will continue to be held with regularity in the future. All kites were provided by Kiwanis and given to children for continued use.