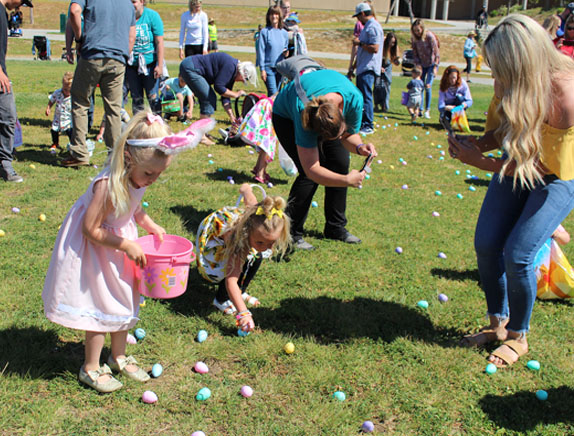 The countless cars parked along Tavern Road this past Sat­urday provided a hint about the number of families who turned up for the Easter celebration at Joan MacQueen Middle School this past Saturday. Once on cam­pus, the excitement was built by the chatter of children showing up with baskets in hand for the egg hunt.
Kyla Kennerly, 7 said: "I heard that one egg has one hundred dollars in it!"
"I'm going to find a million hundred eggs," said Arilynn Wellman, 4.
The egg hunt was just one feature waiting for visitors at the event. The scent of cotton candy, the red-and-white striped booths, and volunteers in match­ing, brightly colored t-shirts all lent a carnival flair to the event.
Ashlee Rodgers, 26, smiled at the people walking by the main volunteer booth at the event. She explained that volunteer coordination began in January and that volunteers have just a few months to pull together the event for which 25,000 eggs scattered on the green lawn is just one detail to be organized.
"Volunteering here is so ful­filling It is awesome to see how everybody comes together in such a short amount of time. I like seeing how people recog­nize that this event is bigger than themselves. This is our way of hugging the community and giving back," Rodgers said.
Two of the volunteers spin­ning the cotton candy for the younger crowd were Addison Trosper, 12 and Joanna Allen, 14, while Addison's brother Shanne helped hand out the sweet treats.
"The best part is seeing all their little faces," Addison said.
Father to Arilynn and Ara­mis, Eric Wellman smiled at his children as they danced around with their sticks of cotton can­dy and said that they attend ev­ery year.
"It's fun to watch them run around, shovel down a bunch of sugar, run rampant," said Well­man.
In addition to the cotton candy for children, coffee for adults, and carnival games for anyone who wanted to partici­pate, Bethel organizers had also set up booths for face painting and crafts and offered a bounce house where children could burn off their sugar consump­tion.
Across from the carnival games, My Little Pony rides of Alpine had set up a petting zoo where children were free to pet bunnies and chicks, romp with a baby goat, and snuggle with a piglet.
"My favorite part of the event each year is the animals," said Emmy Maynard.
Jade Ammon, 4 was twirling her lacy skirt and spinning in line while waiting to ride the ponies and visit the petting zoo. "I'm excited for the ponies and the egg hunt… I think I'm going to find ten eggs today," said Jade.
Tucked into a shady booth, the Easter Bunny himself was on hand to take photos with kids at the event… William Per­rott, 11 (aka, The Easter Bunny) donned a giant rabbit outfit and spent the morning posing with the locals. Perrott said that the only job requirement was to fit into the suit.
"It's hot in here! But it is fun, the best part is all the kids who come up to the photo booth," said William, 11.
The egg hunt included hun­dreds of children who dashed out onto the grass at the sound of the starting alarm to gather up their eggs. As it turned out, not one child found a million hundred eggs but there were plenty leaving the event with baskets full of eggs, bunnies painted on their cheeks, and handfuls of candy.
"This is an amazing event," said volunteer James Conn.