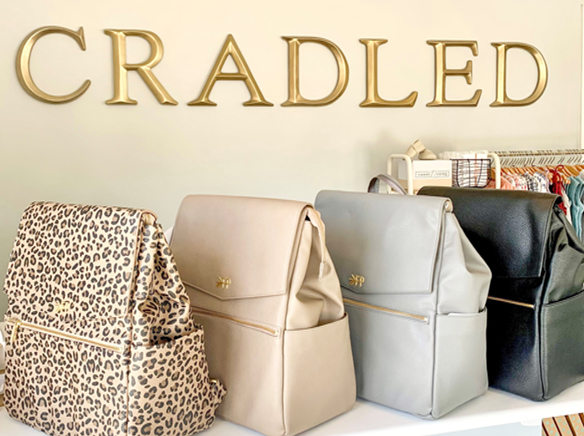 Julia Velasco, owner of Cradled Boutique in Alpine, wanted to open her business after having her son, a dream of hers for about 10 years before it started to come to fruition.
"I really love baby products," she said. "I worked in the baby industry after having my son, and I learned about some really great brands and products, and I really wanted to share them with other people. And I have always had a love of gift giving and creating gifts and gift baskets, so I brought that into the business. I love to work with the client and help them choose different items that work together and create a really nice gift for a baby shower or new baby." Cradled Boutique opened in April 2020 during COVID and had just signed her lease when everything shut down. Velasco said she spent that time remodeling the boutique. Accessity CEO Elizabeth Schott said it has a long history of helping small businesses. A nonprofit organization, it has served small businesses for nearly 30 years. Based in San Diego it serves the Southern California region.
"We are a community development financial institution or a CDFI, and our main mission is as a lender," she said. "We help small businesses both with starting a business as well as expanding with access to capital. We have a loan program from anywhere from $300 up to $100,000. Small businesses can access capital through our program in order to grow their business, start their business, and create jobs in our local communities." Velasco said she went through Accessity to get her startup inventory, and when COVID hit, they offered her a deferment program. "They have been extremely supportive," she said. "They offer a really nice marketplace guide of all the businesses they have helped, and people can go and search for a business near them."
Velasco said she probably would not have gotten the loan if it were not for Accessity. "I was brand new," she said. "When I finally opened it was like my third attempt at the same location. Without Accessity, that third time would probably not have been the charm." Schott said Accessity also runs an educational program with various resources. "One of the things that we find is that running a business is not easy. It is definitely ex citing, but it also takes a lot of effort," she said. "It is about surrounding the entrepreneurs with both access to capital, but also a community of support, training, education, and connections that ultimately can help them in their long-term success. We have different webinars and trainings on topics such as marketing, social media, credit and financing." Schott said it also runs different partnerships locally. For example, credit counseling agency TrustPlus, where clients or small businesses going through its program can get credit and financial counseling, the San Diego Employer's Association, where clients get resources to human resources for personnel questions, and Sam Adams for food, beverage and hospitality, and craft brew businesses, where they get access to its capital program and one on one coaching from Sam Adams.
"Those are some of the resources in addition to access to capital that we support small business with," she said. Schott said Accessity's Academy for Entrepreneurial Success is a twice a year program with one coming up in January 2023. It is a 10-week startup training program that walks a business owner through A to Z on how to start a business. "How to write a business plan, financial projection, market analysis, business pitching," she said. "Once they graduate that program, they are eligible up to $5,000 through our loan program to start their business," she said. Schott said the application for the Academy opens in January 2023 and the program runs in the spring. She said normally it receives 80 to 100 applicants and generally accepts between 30 and 50 applicants. The first Academy in spring is in English, and the second Academy is in partnership with the Eva Longoria Foundation , which is in Spanish. Schott said it works with the Small Business Development Center, SCORE, another women's business center, and other providers where, if their client needs help creating an in depth business plan or financial productions, Accessity works along side these other programs, and then comes in with the access to capital.
"We are primarily helping diverse entrepreneurs and those of low to moderate income," she said. "So primarily we have entrepreneurs of color, women entrepreneurs, veterans. Those are populations that we often see that there are historical systemic barriers in accessing capital through traditional sources. Our program has a mission to support those entrepreneurs, in particular small businesses is another niche of ours that we try to support. Businesses less than two years in operation so they can contribute to our local economy and create jobs." Schott said this year alone, it has put approximately $8 million to entrepreneurs.
"It is a really inspiring path of work to support these hard working entrepreneurs and it also gives our local communities local spending options," she said. "On our website, we have a marketplace. If people are looking for last minute shopping, looking for a caterer, a shoe repair shop, you can search local businesses and spend your dollars there. Which we find both inspiring, but it also helps local jobs and local economy."
Schott said Accessity is funded through local individuals, foundations, local and federal funding, grants and donations from banks, and other corporations. Velasco said Cradled Boutique carries clothing newborn to 24 months, with some various larger toddler sizes more to match the smaller sized items to match with siblings.
"We have hats, shoes, accessories, bows, toys, blankets, baby care items like organic shampoos and lotions, bath toys, teethers, hand knit dolls, books, bottles, natural pacifiers, as well as pregnancy items for the expecting mom," she said. "I also carry a Norwegian furniture brand that uses different designs to bring the baby closer to the family. I have a mini crib that goes next to the parent's bed. You can expand it as the baby gets bigger into a full sized crib, a toddler bed, and even a twin bed. I have a highchair which is the same thing. You can use it from birth as a bouncer to get them close to the table until they are ready for a highchair, then it converts to a highchair, to a toddler chair, so their products are made to last." For more information on Accessity's marketplace and the Academy for Success visit accesity. org and accessityacademy. org. For more information about Cradled Boutique, visit cradledboutique.com.