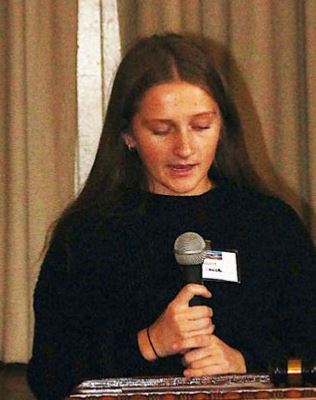 Alpine Woman's Club chose three local students for their annual scholarship awards this year: Lucas Colombo, Saman­tha 'Sammie' Coulter and Maci Vance.
Each high school graduate was awarded $2,000 which Scholarship Committee Chair Linda Whitlock said was "pret­ty astonishing and wonderful" considering the philanthropic club was only able to hold two of their usual fundraisers over the past year with the ongoing COVID-19 pandemic.
Although the club receives scholarship applications from students all over East county, she said, the committee puts aside entries from students who do not live in Alpine. As there is no high school in Alpine, students who land one of the coveted scholarships typically attend school in another neighborhood.
Years ago, Whitlock said, the club determined they would focus on giving the scholarships to Alpine residents who are college bound.
Colombo recent­ly graduated from Chris­tian High School as a varsity swimmer who broke multiple re­cords.
"In the fall, I will be attending Cali­fornia Baptist Univer­sity to study Business Administration, and swim at the collegiate level. I am so excited to begin this next chap­ter of my life and am very much looking for­ward to swimming at the Division one level," Colombo said.
After college, he plans to to start his own business to emu­late his father, who is also a small business owner.
Colombo plans to use the scholarship funds toward paying for school, as does Coulter.
"Oh, I'm definitely putting the money towards paying for college," Coulter said.
She will be attending Point Loma Nazarene University in the fall as a pre-medicine major and hopes to ultimately earn her Doctor of Medicine.
"I am proud to say I'm also going to be joining the Point Loma Nazarene's Reserve Officers Training Corps for the honor of serving my country," Coulter said, while also utiliz­ing the program toward helping pay for college.
A lifelong lover of language, Coulter also hopes to learn more about different cultures in college.
Vance also said she is using the funds toward paying for college, likely applying it toward living on campus "to get the full experience" although she said living at school is "really expensive."
The Granite Hills High School grad will be majoring in Biology with an emphasis in Zoology at San Diego State Uni­versity and hopes to become a veterinary anesthesiologist.
"All my life, I've been told not to chase money and to go for a career I enjoy and would look forward to every day. I hope to not only help wildlife in my community but in others as well," Vance said.
While she is excited for college, Vance said she is "also a little nervous because I'm kind of shy" but beyond excited for my future working with animals" after college.
All three students said they are grateful to the Alpine Woman's Club for the funding.