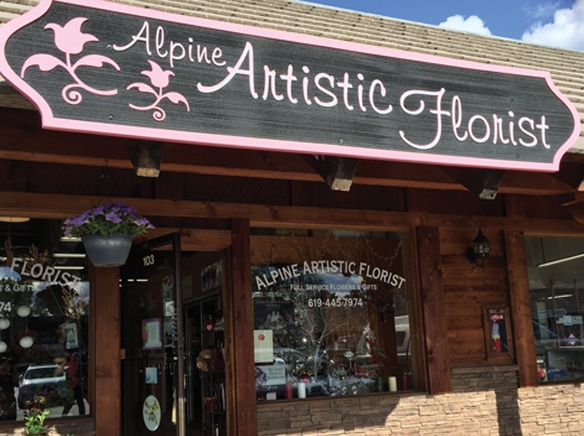 Alpine Artistic Florist business owner Ja­mie Lewis says she occasionally gives away a flower to someone passing through the park­ing lot in front of the shop who looks like they need it for some reason.
"I think that it brings me more blessings than them. Sometimes they come back a couple of weeks later to thank me or let me know that it made their day better and hear­ing that tells me this is where I'm supposed to be," Lewis said.
As of April 1, she will have been in busi­ness for 12 years and although she does not know how many flowers she goes through in a week, she says it depends on the number of weddings and funerals she covers during any given week.
Although the shop has delivered floral ar­rangements as far as Chula Vista, Oceanside or Coronado for customers, Lewis says some of the more special arrangements are for return customers who she has seen grow up.
"I've done flowers for prom and later on been asked to do wedding flowers for the same per­son then a few years later I'm doing their an­niversary flowers and baby shower arrange­ments," Lewis said.
She has a team she frequently works with that she calls the Wedding Power team and says she has had the chance to decorate many backyard weddings.
While Valentine's day is the biggest single workday of the year, the entire week surrounding Mother's day is a busy one for Lewis.
Constantly on the lookout for unique con­tainers, the florist asks about creative recepta­cles when she spots them in local shops, then sources the vendor so she can order them for use in her business.
Lewis also says that she performs a steady supply of deliveries to Alpine cemetery on Christmas and on individual birthdays, many of which are ordered by family members who live elsewhere.
Additionally, she has several secret custom­ers who ensure that a loved one continues to re­ceive flowers after a loved one has passed away.
She says that peonies are the hardest flow­ers to find as they enjoy a relatively short bloom season and although popular, aren't easy to source.
Another tricky request: black roses.
"You have to spray them black which I don't really like to do because I'd prefer to leave them with their natural color and beautiful fragrance," Lewis said.
As the business owner considers the next decade of ownership, she says the one thing she would like to do is sustain more monthly subscriptions for floral arrangements.
She says she read a study from Rutgers Uni­versity proving that flowers can alter one's mood and that she likes to make the world a better place.
"If only people were more kind," Lewis said.