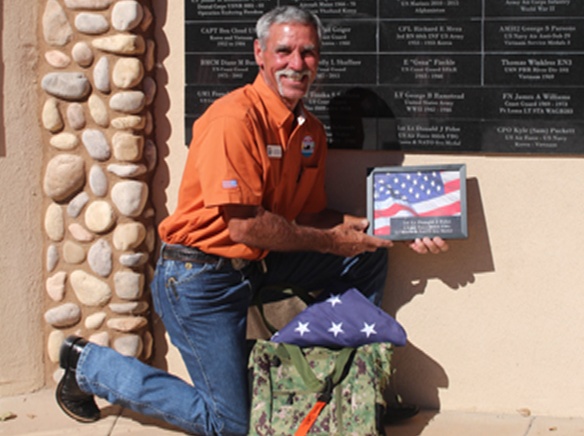 New tiles engraved with the names of United States military veterans are added to The Alpine Wall of Honor on or near Veteran's Day and Memorial Day each year, with everyone who has served then honored in a presentation facilitated by Wall of Honor Chairman and Vietnam Veteran Dan Foster.
The most recent event, held Nov. 13, included speeches from Vietnam-era pilot Greg MacNeil, Army Veteran and Patriot Guard rider Lorenzo Lizarraga, Navy Veteran and former Alpine VFW Commander Jack Gauthier, and others who all spoke of their time in service with a sense of closure.
Foster thanked the Patriot Guard riders who escort veterans who have passed away to their final resting point and stand guard while they are laid to rest. In gratitude, he thanked WWII Veteran Bill Ridenour and his wife Betty Ridenour, an original 'Rosie' circa 1941. In jest, he warmed up the crowd with light laughter, congratulating Ridenour on being married six years, although it has actually been over eight decades.
The day grew solemn with stories told from memories that appeared unchanged by time.
"I was an angry young man. I'd seen my friends blown up, I went through the Tet offensive and I wanted to go kill," MacNeil said.
Under the rules of engagement, he said, he was to draw fire to his aircraft, "get them to shoot at me" so American forces could legally return fire.
After capturing Vietnamese soldiers on a mission, MacNeil said, he asked a translator to help him with a few basic questions so he could get a sense of who he was fighting. Of the three prisoners, one was married and had a child. One was fresh out of school. One worked for a trucking company.
"Suddenly, I understood the saying 'I have met the enemy and he is me' and after that, I wasn't angry. In fact, the whole rest of my tour, I tried to capture as many prisoners as I could instead of killing anyone," MacNeil said.
He was later awarded the Distinguished Flying Cross.
Viejas Chairman and Army Veteran Anthony Pico said "memories of combat are as clear in my mind as if it were yesterday" and he will forever remember anyone who fell in battle.
"They never fell in love, got married, had children as I have… they stayed forever young in my mind and my heart," Pico said.
Gauthier, who served as Alpine VFW Commander for many years, usually steps back from the microphone so others can do the speaking at public events. However, he took to the podium on Saturday with a rare public display of emotion and, wiping tears from behind his glasses, recalled graduating from high school and almost immediately being deployed to Vietnam.
"I would not give up or trade any of the experiences I had in the military. It's made me who I am today. I was chosen to serve our nation during a time of conflict and I would do it again without hesitation," Gauthier said.
Lizarraga said he recently let a group of high schoolers know they could ask him anything about his experience with the military.
"They asked how old I was and you know, teenagers look at us like we're old men but this kid said 'wow, you were only a year older than me' in Vietnam," Lizarraga said.
Alpine Community Center Board President Louise Phipps said she can only speak from the perspective of a military spouse who observed the aftermath of what her husband lived through, leaving college as a "handsome, happy, athletic young man" to fly with the Navy in Vietnam, only to see his best friend killed in action.
"'I was never young again' he said," Phipps remembered, and he would stay reticent for decades, refusing to talk about his experiences in combat.
Once, when she was sent to Washington D.C. for a work event, her husband suddenly decided to join her and said he wanted to visit the Vietnam Veterans Memorial wall.
"Almost like a mission, he went up to that wall, stopped, and I saw his fingers go across the name, he went down on his knees and cried and I thought in that moment 'he found peace'," Phipps said.
The purpose of life is to matter, she said.
"My husband, all of you, have made a difference," Phipps said inclosing.
Outside, ten new names had been added to the wall with this round: Donald Folse, Kyle (Sam) Puckett, John Anderson, Howard Nordeen, Jack Evans, Homer Watson, Rex Salmon, Anthony Lieb, Harold Abe Schmidt and James Gray.
The Wall of Honor is located outside the Alpine Community Center at 1830 Alpine Blvd.