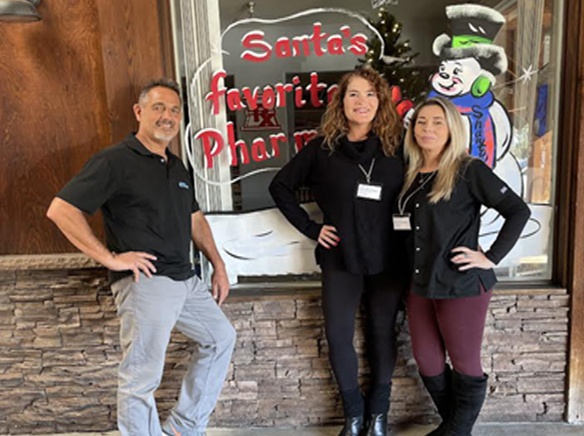 There is a new pharmacy in town, owned and operated by Alpine resident Martin Gorence, bringing back that old pharmacy atmosphere and feeling with its family owned and operated business.
Owner and head pharmacist Martin Gorence has been in Alpine since 2006, worked in Alpine as a pharmacist, and three months ago moved his business from El Cajon to Alpine, the community he said they want to be part of. He said it is the first independent pharmacy in Alpine in 20 years.
Gorence said the pharmacy had many Alpine customers while in El Cajon, but when Dr. Brian Peterson's urgent care facility became available, they spoke to him and decided that it would be a good place for a pharmacy, moved in and started the family-owned and operated business three months ago.
"All my kids went to the Alpine elementary schools through junior high, and I have one in high school now. So, we are locally owned and operated," he said.
"The response from the community has been fantastic," continued Gorence. "Customers have been coming in here telling us how they are transfers from the old Alpine pharmacy next to Barons Market. I remember that. I was a new pharmacist then when it sold back in 1999. One of our customer's dad owned it. The patients love it. We have lived here long enough in Alpine that we are getting good word of mouth exposure. You know how good news travels in Alpine and we are getting many references from people."
DMK Pharmacy's head technician is Shantowa Nee, and is co-owned by two others, Don Meyers and Kristina Johnson. Hence the name DMK, Don, Martin and Kristina. Gorence said Nee has more than 25 years of experience and he has been in the business a "little longer than that." He said the pharmacy is the perfect fit for the Alpine community.
Gorence said it is the pharmacy's service, free delivery and mailing, and their combined care about the community that makes the pharmacy special. He said that many customers get excited just when calling the pharmacy.
"You will not get an automated phone," he said. "You will talk with one of us. Many seniors in the neighborhood, I do not know how they get things done having to push buttons all the time, being placed on hold forever, so our service, accessibility, and our low prices because we are not corporate and do not have a lot of red tape, and we take all insurances. We do all the vaccines, COVID, tetanus, pneumonia, shingles for seniors, flu, and we have all the over the counter products."
"We remodeled the urgent care and took a couple of room out to create the pharmacy," he said. "
We made a little atmosphere in here where it is nice to sit down. It is really neat to see the people come in here."
Gorence said to retain the "old fashion" pharmacy experience he gives shots for some customers in the parking lot. He said as a neighborhood pharmacy, he will open the store for people, or grab thing and take it directly to their customers. He said they love the location, and it came with handicapped parking out front and with the space out back, they are allowed to supply curbside service, even though there is no curb.
"There are a lot of many little things that people seem to enjoy and like," he said.
Gorence said it has a display of old pharmacy products that the customers enjoy with old band aids and remedies, with many customers bringing in older products for their display. "It's pretty neat," he said.
DMK Pharmacy is at 1730 Alpine Blvd., Ste. 109. Visit www. dmkpharmacy.net for more information.