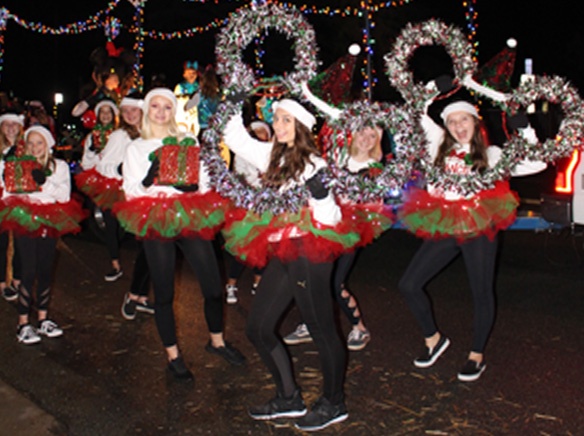 A line of floats stretched up Victoria Avenue last Friday evening, drivers waiting for the cue to start their engines and join the procession down Alpine Boulevard for the 2019 holiday parade of lights.
Despite the drizzle of rain, people lined the boulevard ear­ly, setting up chairs for their best vantage point to sit and watch the floats go by.
"The rain just makes it more like Christmas," Jasmine Wright, 15, said.
Back In the Saddle partici­pants who were dressed up as Disney characters eagerly bounced around in front of the Alpine Community Church near a bevy of young ladies from Alpine Dance Academy all decked out in red and green tutus that were strung with twinkling lights.
The Monte Vista High School marching band could be heard from the parking lot of the historic Town Hall, snare fills carrying on the cold wind from where battery was warm­ing up and drowning out the sax player standing with the brass. Band Director Katie Leonard stood with her wagon stocked with items for the band, smil­ing at her students as a roll of tape escaped her arsenal.
"This is our first time here and we're totally excited. Get­ting to go to a new event is super exciting for everyone," Leonard said.
At 6:30, the church clock rang out and the parade began.
As each float turned the cor­ner of Victoria to begin the trek down Alpine boulevard, the viewers cheered, many calling out 'Merry Christmas!'.
Handfuls of candy came fly­ing at the crowd with every few floats, tossed down or handed out by the chaperones who walked beside them. With each handful, children rushed out from the sidewalk to gather up the sweets before scuttling back to their places.
"God bless you" and "Thank you for your service" was heard as the Bethel Christian Assembly rode by on a float depicting a deployed service member separated from family at home with stockings hung by a fire­place and a mother reading to her son.
Other floats included VFW District 1 Senior Vice Com­mander Paula Jansen escorting fairytale princesses with the pageant program; the Alpine Eagles Lacrosse team; the Ky­lie Rowand Foundation, a non-profit dedicated to raising mon­ey for childhood cancer treat­ment development; Boy Scout Troop 105 and Little League.
At the community center, vendors had set up shop in the parking lot with holiday items for sale. A snow corner was also set up where children could to­boggan down the small hill or launch snowballs at their sib­lings.
Maddie Jenkins laughed as her youngsters learned that snow is cold and wet on little hands.
"The snow is such a treat for these kids. We just moved here and this is a whole new experi­ence for them," Jenkins said.
After the parade ended, folks lingered at Al Panchos over a late dinner with their children's laughter present in the air long after the last float pulled away.