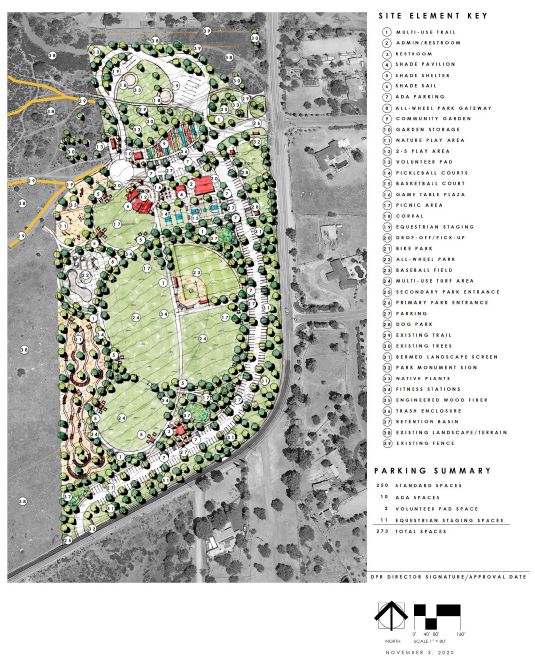 Preserve Alpine's Heritage, a group against San Diego county's proposed plans for a destination park, received nonprofit status in December 2021.
They're now starting the new year with plans to educate residents on exactly what the new park entails, ostensibly to drive toward a more subtle approach to amenities and access for the proposed county park.
When the county released their plans back in 2020, it included developed amenities such as playing fields, sports courts, fitness stations, a horse corral and a paved parking lot, all on a rural stretch of land adjacent to Wrights Field nature preserve. At the time, a group of residents who thought the scope of development did not jibe with Alpine's rural character dubbed themselves 'Save Wrights Field,' later renamed Preserve Alpine's Heritage.
Now, much of the nonprofit's work relies on ensuring residents understand what the park will look like, how it will affect homeowners and why access to the park might be an issue.
The park property— regardless of what amenities are ultimately included on the site— is accessed from South Grade Road. Most routes to the park are devoid of sidewalks and child safety has consistently been raised at public hearings and community outreach events for the park.
Preserve Alpine's Heritage Board Member George "Jody" Root said the park that started their work in the first place is not the only project where the new nonprofit plans to get involved.
"The purpose of the organization becoming a nonprofit wasn't to be political, it was to work with the different projects and it turned out the first project was the park," Root said.
"The all-wheel park— you have no sidewalks or bike lanes, you have nothing to protect kids who come to that park site. We need to make sure everyone understands exactly what's going in there."
Root, who said he brought American Youth Soccer Organization to Alpine in the 1980s, remembers there were no soccer fields for AYSO kids to use at the time and, in collaboration with the county, fields were deliberately built in certain geographic areas where it made sense to hold games.
"It was sensible. In fact, in Descanso we even put in storage so you had all the goals and equipment in one place. We thought that would be better for the county," Root said, and that collaborative approach is one he also thinks will work for Preserve Alpine's Heritage as the park looms large on the horizon. The concern over access might develop into the second project on the new nonprofit's plate.
"An Alpine loop would be a way to safely have paths to traverse the park without going on South Grade and we think that is a good idea. We've been looking at that as potentially the second project. I haven't seen it out there but we'd support that," Root said.
Although the scope of the park has been an issue for residents who are not in favor of the current county plan, Root said a hub of multiple fields can be a good idea if located in a wisely chosen place. For example, the Santee Sportsplex "has soccer, baseball, indoor facilities all in one location," Root said and it works for the space.
"They could do that now at Joan MacQueen Middle School and to me that makes sense. I just don't understand why the county would not be interested in doing that. They've been supportive of joint ventures in the past, in fact they're doing something now with Joan MacQueen and it makes more sense than a multi-use park in a semi-rural area," Root said.
He said the last time someone proposed a plan for the undeveloped park land, it was a golf course that was deterred through litigation.
"The park either goes forward or someone challenges it and that could be a number of groups. We're a relatively new group and it would be a major undertaking but there's several groups that have concerns and would challenge it in court or publicly through the Board of Supervisors," Root said.
That semi-rural community character is what brought the members of Preserve Alpine's Heritage together in the first place, he said and although they have diverse opinions, the organization's members moved to Alpine to escape urban development. Just as elements of the park are inconsistent with that rural image and worth holding off, other future projects might focus on items like welcome signs that emphasize the small-town lifestyle the organization wants to preserve.
"The nature of a nonprofit is centered on the public instead of the entity itself. With every decision we make, we stand back and ask: is this good for Alpine? We answer to the residents, it gives you a focus and the focus is to benefit the community," Root said.
It is important for the nonprofit's members to "protect rural nature, figure out the best location of each park element, and function as an entity rather than a group of people," Root said.