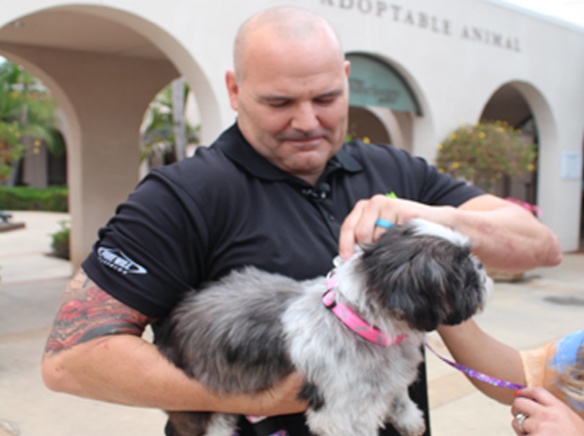 A small dog named Chloe trot­ted cheerfully around the court­yard of the Humane Society's San Diego campus on prosthetic back paws, tail wagging, sniffing the ground in circles before return­ing to her new family. That fam­ily, San Diego Police Detective Chappie Hunter, along with his wife Arlene Hunter and 13-year old son Gavin Hunter are consid­ered an ideal match for Chloe the Shih Tzu pup, as the police officer was fitted with a prosthetic leg following an off-duty motorcycle accident eight years ago.
The Hunter family already had one pet dog in their Alpine home but Arlene Hunter said a friend asked if they would consider tak­ing in the small dog as her hus­band, Chappie Hunter might be able to help the rescued dog adapt to her prosthetic paws.
Chloe and her former dog­mate Roxy had been taken into the facility after Serena Boney, a 27-year old Humane Society offi­cer was dispatched to an Escon­dido veterinarian's office. There, she realized the owner could not possibly provide the care needed for either dog, both of which had major injuries to their back paws.
"We get a lot of calls but this was my first incident like this," Boney said.
To prevent them from licking and scratching, their owner had bandage-wrapped their back paws so tightly that it cut off blood flow— both of Chloe's back paws and one of Roxy's back legs had to be amputated.
Humane Society Veterinarian Susie Garity said she was present for Chloe's surgery, performed by Dr. Seth Mathus Ganz of Ag­ile Veterinary Surgery, and ulti­mately ended up participating in Roxy's surgery, but the cases are different as Roxy has some arthritis and needed a more tradi­tional prosthetic whereas Chloe has 'house slippers' she uses for everyday dog life.
"Fitting a dog with prosthetics is quite an involved process and this was a first for us. It included sedation to create a mold of the feet, getting the prosthetics to fit perfectly and monitoring for pressure sores. It takes time for the dogs to learn to use them," Garity said.
That learning pattern was one the Hunter family was pre­pared to help with as a foster family for Chloe. After being fitted with her prosthetic feet, Chloe was able to stay with the Hunters, ostensibly in a tempo­rary foster situation. Almost immediately, it was obvious the little dog was right at home with them and they decided to permanently adopt her.
"She's so happy, she'd been at the Humane Society for four, maybe five months and Dr. Gar­ity was looking for a foster for her. We weren't able to take her until she had her prosthetics but now, she's part of the fam­ily," Chappie Hunter said.
The understanding of "put­ting it on, then being able to run and jump" was a good back­ground, Chappie Hunter said.
Although the little dog now has a home where her needs are understood and she is evidently at peace, that wasn't the case from the start.
Garity said the behavior pat­terns from animals and people who are hospitalized for long periods of time is similar: they get "sort of a quiet sense about them" and you can see when they need a pick-me-up to keep going.
"Enrichment is a little dif­ferent for everyone but even 24 hours in a different environ­ment can change their mental state," Garity said.
The organization puts ani­mals first, she said, and events like the one on Thursday are intended to show the public two things: first, that staff will keep pushing the limits of what is possible in a shelter and second, that there are always options for care.
Both Garity and Boney said they want people to know they can reach out for help before things get out of control as it did with Chloe and Roxy.
The important thing for pet owners to know, Boney said, is that the organization is not there to take away anyone's pet but to help make things right for the animal.
"We're here to help. We don't have all the answers but there is low-cost pet care, there are re­sources out there. Call us, find us on our website, reach out, please," Boney said.