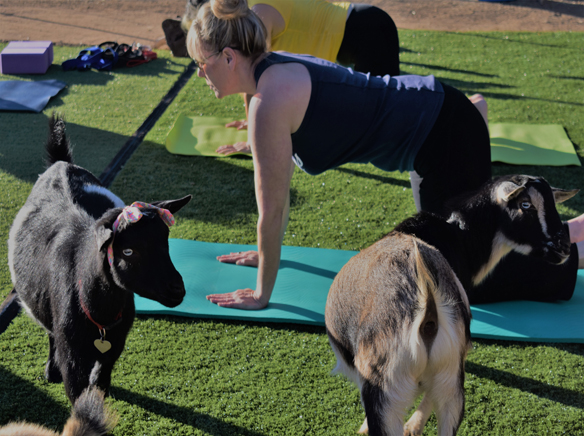 Gaze steadily into the goat's rectangle pupils as you perform your yoga bridge pose.
Wait! What?
Yes, yoga with goats is a legiti­mate form of exercise. And, yes, goats have rectangle-shaped pupils during the day accord­ing to Alpine resident Diane Melvin owner of Alpine Sunrise Goatoga.
"Their eye pupils are rectan­gular during the day, they have great peripheral vision," said Melvin. Not to mention that goats can be a great companion to yoga moves, with the sheer fun they add to a yoga session according to one of Melvin's cli­ents Monica Powell.
The appeal?
"It's a novelty and people that love yoga, like it with little goats," said Melvin, "And being outdoors and the view of Viejas Mountain."
Melvin, who's outdoor yoga studio is on her close-to-one-acre plot of land on South Grade Road, hosts a yoga with goat class, Goatoga, Saturday's at 8 a.m.
Melvin, who retired after 35 years with the Metropolitan Transit District (MTS), was en­couraged to start her goat yoga by her boyfriend, Louie Cano, after a friend of her daughter, Nicolette Goward was certified in yoga.
One thing led to another and Melvin started offering the goat yoga classes one year ago. Lau­ren Alarie is also another yoga teacher Melvin employees.
"I used to hate yoga. Then I started doing gentle yoga off and on for three years," said Linda Morgan.
Through a series of events Morgan ended up in goat yoga and describes the outdoor, early morning classes as visiting "a scared place, a spiritual awaken­ing" just by being in, and seeing the beauty of nature, while per­forming traditional yoga with goats wandering about.
"They (the goats) are super friendly and they make you gig­gle," said Powell.
"You're doing a downward dog and they walk under you. It is so nice to laugh in the morning."
The outdoor setting lends to the experience in a profound way as Morgan emphasized. Melvin noted that if the weather is bad the class is cancelled but that it has not happened often.
Morgan wears the traditional yoga pants and t-shirt. Tradi­tional yoga mats are used and laid over a section of artificial turf.
"It feels like going to your girlfriend's house," said Powell of the atmosphere Melvin pro­vides to her customers.
To find out more about Alpine Sunrise Goatoga visit: www.goa­toga.com