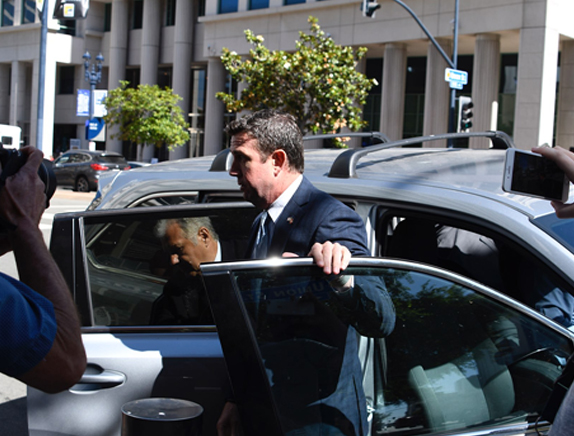 After numerous motions by federal prosecutors and defense attorneys in the case of United States of America v. Duncan D. Hunter were recently filed two things were made clear Monday morning: Allegations of extramarital affairs can be introduced at Hunter's scheduled September trial and legal teams will meet again in federal court July 8.
In summer 2018 Hunter and his wife Margaret were indicted on dozens of campaign fraud charges.
On June 13 Margaret Hunter pled guilty to one conspiracy charge as part of a plea deal that stipulated she cooperate with prosecutors in the case against her estranged husband.
Hunter's attorneys last week filed several motions including one that would prevent prosecutors from introducing evidence that would suggest Duncan Hunter used campaign funds to pay for rendezvous with women other than his wife.
Defense attorneys also motioned to have the case against Duncan D. Hunter dismissed.
The Republican congressman has maintained that federal prosecutors targeted him because of political bias, citing their alleged admiration of Hilary Clinton who was running against Donald Trump for the presidency in 2016.
Hunter is a supporter of Trump and has been since before he became president.
Federal Judge Thomas J. Whelan ruled that prosecutors could talk about Duncan D. Hunter's use of campaign funds that may have been used to pay for dates with female lobbyists and congressional aides.
Whelan, however, did not rule on defense attorneys' motion to dismiss the case or to change the venue of the September trial.