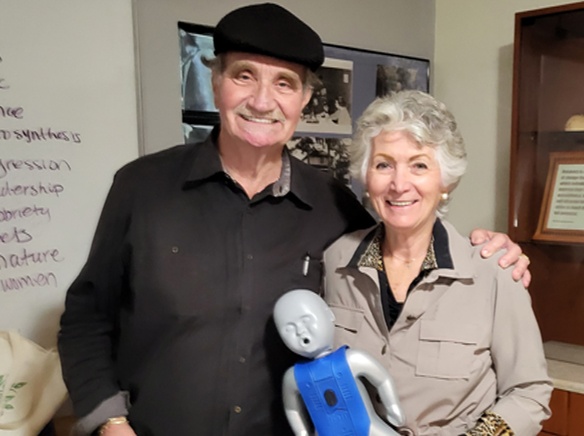 In recognition of American Heart Month, Save-A-Heart is holding a CPR/AED certification course at the Alpine Town Hall on Feb. 11 from 10 a.m. to noon. The CPR/AED two-year certification covers CPR for adults, children and infants, the Heimlich maneuver, drowning, and automated external defibrillator (AED) training.
Alpine resident and Save-A-Heart owner Carlette Anderson is a physical education teacher by profession. After moving to San Diego and meeting her husband at work, her boss told her that if they could find something to do together the sky would be the limit.
"I prayed, and one day received a calendar from Grossmont Hospital with all the different classes that they offer," she said. "One of the classes was the CPR class. I went to that class. I was not there 10 to 15 minutes, when I thought, 'Oh my God, this is what we are going to do.' "
That was in 1988.
Anderson said she and her husband JC started Save-A-Heart CPR Pros with just a few students but have built it up and now have been running the business for the past 35 years.
"When COVID hit March 15, 2020 our business closed," she said. "And we are still down 90%. We do not know where our clients are. But it really does not matter. I just love teaching CPR, so every year I do a class for the community. I always hold it at the town hall, the Alpine Women's Club, and I love to teach people how to save lives."
Anderson said along with CPR, AED training is extremely popular now.
"They have them at the libraries, in churches, in schools, airports. You will see them just about everywhere, so I also teach that. If you can get an AED machine on the person, they have an 80% chance of survival," she said. "It is very important to know these things. Especially people with children with swimming pools or go to the lake, or people that are around water a lot. Drowning is the number one cause of death for children under the age of six. It is so important for children to know how to swim, but even if they do know how to swim they could get into a situation where they need help. If they start swallowing water and stop breathing somebody needs to know what to do. In a drowning situation, if you are right there, the chance of their survival is around 95%. The reason is that they do not have a bad heart. Their heart just stopped because they stopped breathing."
Anderson said that Save-A-Heart offers online certification at its website.
"I like having people take the CPR courses online because they can bring in their family members, they can gather around the computer and learn together, they can have fun, check each other's pulse. They can stop it, start it, go back to it. It is very interactive," she said, adding that she recommends that people recertify every two years.
Anderson said it has been a wonderful business for her and her husband, and they both keep asking when they are going to retire.
"So God said, 'You are going to retire on March 15, 2020,' " she said laughing.
Anderson said for the first year of the pandemic they only had a few online courses, and they are not sure where the business is going to go from here.
"But it is fine," she said. "We are okay.
To register for the Feb. 11 CPR/AED two year certification course on Feb. 11, call (619) 445-4569.
For more information about Save-A-Heart visit cprpros.com.