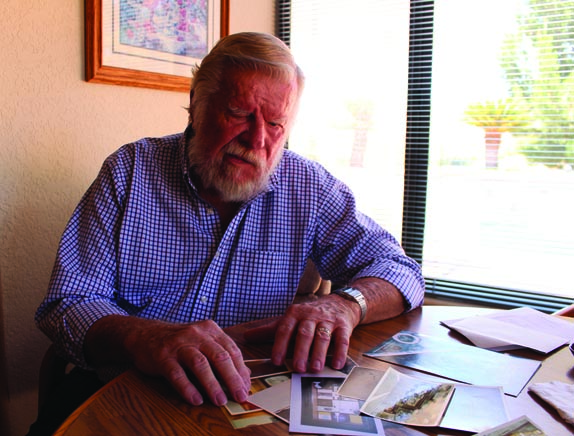 Retiree Chuck Murray remembers exactly how he came to work inside the danger zone of multiple Apollo missions as the United States aimed to put mankind on the moon.
"In '53, Hollywood started making lots of science fiction movies. I went to the movies— I was 16 at the time— and saw Destination Moon and I was fascinated. I started having daydreams about standing out in the open in a field of some kind, all by myself, watching the first rocket to the moon lift off. I kept that dream and 16 years later, I actually did it," Murray said.
When Russia was still three or four years off from launching Sputnik— the first satellite to orbit earth— Murray had set aside his dream and was working at the Keystone Steel company. He saw an ad: Radio Corporation of America (RCA) was seeking technicians for Cape Kennedy.
Murray called immediately and after tipping his hand that he was not formally trained in anything concerning space exploration, was discouraged from taking the entry test for the position. He struck a deal with the program manager, Dick Green.
"I'll come up to Chicago to take the test and if I don't do ten times better than you expect me to do, I'll buy you dinner," Murray said.
During the test, each applicant was walked to the door after finishing and informed that they'd be contacted in two weeks with a decision, either way. Murray was the last man still working his way through the test when Green walked over and put his hand on his shoulder and informed him that he would not be buying dinner.
Murray, not wanting to be cut off from finishing the test, protested that he knew the answers, he just didn't know how to prove the math.
Green countered that he'd just proven it. He then asked Murray if he could be in Cocoa Beach, Florida in two weeks, to which Murray replied that he'd crawl to get there if he had to do so. He was 28 years old.
At the Kennedy Space center in Cocoa Beach, Murray was asked to film the Saturn rockets being used for Apollo missions.
"I was supposed to watch that tail fin and then, if it cleared the tower, put the camera up on the capsule, the command module, so that if later on in the flight they had to abort, my camera would track them down— this is before GPS… and figure out where they were."
Murray was warned that the rockets were packed with enough fuel to throw a 11-pound piece of shrapnel up to three miles; his location at 1.5 miles away was well inside the danger zone and his life could not be guaranteed.
It was actually his ears that took the brunt of the force created at liftoff.
"I was there two years or so when they launched the first Saturn V and that's when my ears caught hell… It's seven cycles per second and you just don't hear that. I did (Saturn rocket and Apollo mission) launches four through thirteen… I found that if I strapped on a pair of military headphones really hard it would help save my ears. It physically shakes you, destroying your ears and you don't even know it," Murray said.
Still, Murray smiles and says that it was "fun times" and claims that going to the moon is one of the greatest achievements of mankind.
"A guy working out here on my drain asked if we really went to the moon. I can guarantee that we really went to the moon. There's a lot of people who miss the most important thing when they talk about that launch. On July 20, 1969, the United States was in a state of social unrest. There were campus riots on colleges, there were a lot of very angry people about the money that was being spent but the minute we landed and Neil got off of that step, all of that disappeared. It was a national pride like we had never seen, and I thought that was wonderful."
The shadowbox on Murray's wall is filled with mementos of his time at the Cape; it is built into his house and lit from within.
With a glance over at the shadowbox, Murray smiles and says that he wouldn't have traded where he was with anybody.