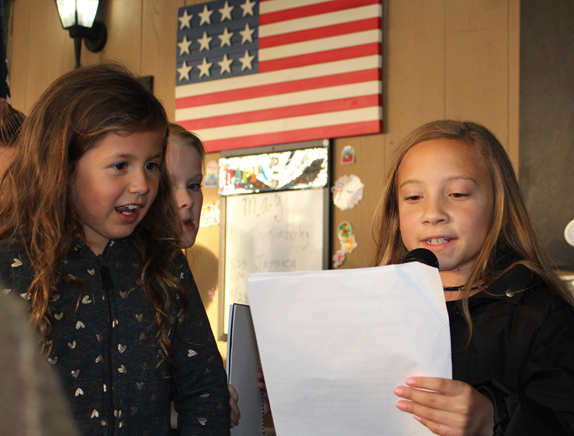 At the 17th Annual Alpine Education Foundation essay presentation, held recently at the Veterans of Foreign Wars post in Alpine, there were 27 Alpine schoolchildren invited to read their essay addressing "What does it mean to be an American?"
The readings provided for­mer State Sen. Joel Anderson, members of the Alpine Edu­cation Foundation, members of the VFW post and all the families in attendance no less than 27 different opinions on the topic.
Quartermaster Carl Silva welcomed everyone, thanking the Viejas Band of Kumeyaay Indians who sponsored the event and commending the children who entered the es­say contest.
"I'm so excited for this event— I love that all these children are here! Money can't buy the joy of seeing a family with children." Silva said.
The squirming students who sat at the banquet tables lined up on the patio momen­tarily paused and held still while Chaplain Theo Bazdorf led the crowd in an opening prayer, then scattered to eat a spaghetti dinner and practice their essays before the presen­tation.
"I am so excited about read­ing my essay," Kaitlyn Cross, 8, said.
Across the table, her cousin gave no hint at any amount of nervousness.
"I practiced twice today. I'm ready," Brooklynn Cross, 10 , said.
Out on the patio, community members expressed their pride at seeing so many children write on a serious topic and pre­pare for a public speaking event, some for the first time.
"This is one of the events that make our community so proud, makes us all proud," Anderson said.
Danielle McNulty warmed up inside the VFW while waiting for the speeches to start and chatted with family members about her son Aadin Squier's hard work on the essay.
"I'm exceptionally proud of my son. He's very energetic and artistic; he's a great role model for his baby sister. I'm so proud," McNulty said.
Following remarks from AUSD Superintendent Dr. Rich Newman and AEF Director Co­lin Campbell, the children took turns giving their speeches.
"Some of what they had to say was quite profound and meant that patriotism is still alive and well with our youth today," Baz­dorf said.