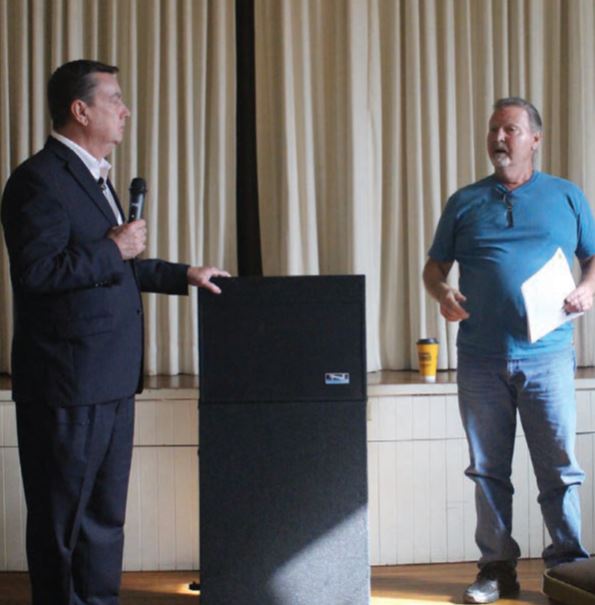 County Supervisor Joel Anderson, who represents most of East county, hosted a community meeting in Alpine on Sept. 17 where residents turned up to ask for fire insurance solutions, proclaim their displeasure about the impending county park, discuss homelessness, and more.
From the outset, Anderson let residents know he alone does not govern the district and any vote taken by the five supervisors who represent different corners of the county requires three votes for approval. Furthermore, he informed attendees, although he had a full staff on hand who could provide instantaneous help, not everything falls within his purview and some issues might need redirecting to other elected officials or government offices.
Several residents brought up concern for a growing homeless population in Alpine and asked where the individuals could be directed but Anderson said there is no clear answer as being homeless is not illegal and until there is a local shelter, there is nowhere to send individuals for help.
A recently proposed East county shelter, which would have been located just ten miles west in Lakeside, is no longer being considered, Anderson said, because the site would have required over $2 million in environmental studies. Currently, one of East county's only means of providing shelter is to distribute hotel vouchers, many of which are redeemable in El Cajon, with program participants later connected to social service case workers.
Preserve Alpine's Heritage spokesperson Julie Simper asked if the supervisor would reconsider some design aspects of a forthcoming county park located adjacent to Wright's field and said she could supply him with county data showing why the design does not work for Alpine. However, Anderson said the project represents a $28 million county investment which "we'll never see again" if it is not utilized toward the destination park, and would not waver on backing the large-scale project.
Alpine resident Anastasia Coon said she works in mental healthcare and would like the county to use an upcoming Pine Valley bridge repaving project as an opportunity to improve the guardrails and prevent people from committing suicide by jumping to their death. While completing updates on the bridge, she said, workers could also install a satellite phone box alongside helpline information so people in crisis could reach out for support in their most dire moment of need.
Although murmurs of approval passed throughout the room, Anderson said work on the bridge falls to CalTrans and directed her to staff for more information on how to reach the correct point of contact with her suggestions.
Multiple Alpine and Descanso residents asked if anything could be done to prevent insurance companies from refusing to renew home insurance policies for risk of fire. Although Anderson said the issue is one for the state of California's independently elected insurance commissioner, he also said he is frustrated at how little can be done for homeowners.
"The state doesn't want to help because this is a cash cow. Everyone says they 'can't do anything' and I find that hard to believe," Anderson said but he said he is helpless on the issue.
Alpine resident Mary Davis said she is frustrated by the county's approach to reducing cars on the road and asked Anderson to advocate for more driver-friendly policies.
"I'm sorry, we're not going to replace cars entirely because you're not going to hop on your bike and go to Costco for a 32-pack of toilet paper," Anderson said, following his quip by saying he is not entirely against environmental measures as they are often embedded in larger projects which benefit East county such as a recent redo of Lindo Lake park that included four electric vehicle charging stations.
Wrapping up the meeting, Anderson reiterated he "can't change an ordinance without three votes" and implored residents to speak up at county level.